YONEX Voltric Series is developed for advance and aggressive badminton player who really wants to dominate in the game with powerful badminton smashes. This series of Badminton rackets are endorsed by top level badminton players (Voltric Z Force is endorsed by Worlds Number One Li Chong Wei). Voltric Z Force , Voltric 80, Voltric 70 and Voltric 60 are top end badminton rackets in Voltric series. These rackets are known for explosive power( See complete review on YONEX Voltric Z Force).
In this post we shall discuss the YONEX Voltric Badminton Rackets series (For advance Badminton Players  ) and its consist review of Voltric 9 , Voltric 7 ,Voltric 5 and Voltric 3. Khelmart.com YONEX Badminton Rackets will provide you full Range of Voltric Badminton rackets which will give you the benefit of selecting  these world class rackets.
With the help of this post , badminton player can effectively differentiate in these YONEX products and accordingly select the perfect one as per the need to there game and playing style.
About YONEX VOLTRIC 9:
With stiffer Racket Shaft , VT 9 is good badminton racket for advance & aggressive player. Racket handling is very good (Fast Racket Swing). With TRI VOLTAGE System , VT 9 provide all-round badminton racket performance (combination of attack and quick shuttle return) . Weight of VT-9 is 85 to 85.9 and its available in G3,G4 7 G5 grip sizes. Built in sound filter makes Voltric 9 different from other advance level of Voltric Series of rackets. Sound filter reduces the unwanted vibration from racket and gives comfortable feel during shuttle hitting. It also generate louder and sharper sound when shuttle hit to string bed.
As a summary ,Voltric 9 is aggressive badminton racket with advance features like sound filter, Control Cap. With Extra stiff shaft , this racket generate immense power on smashes and unsettle your opponents during game.
About YONEX VOLTRIC 7:
With middle flex , Voltric 7 Badminton racket gives optimized flex to gain control in the game. With VT 7 , badminton player will get superb control on shuttle and at the same time get extra benefits of Voltric inheritance power. This is light weigh racket with grip size available G3 ,G4 and G5. This rackets is designed for intermediate or advance badminton player. This racket will provide you all-round performance & perfectly balanced  repulsion which can be handled easily.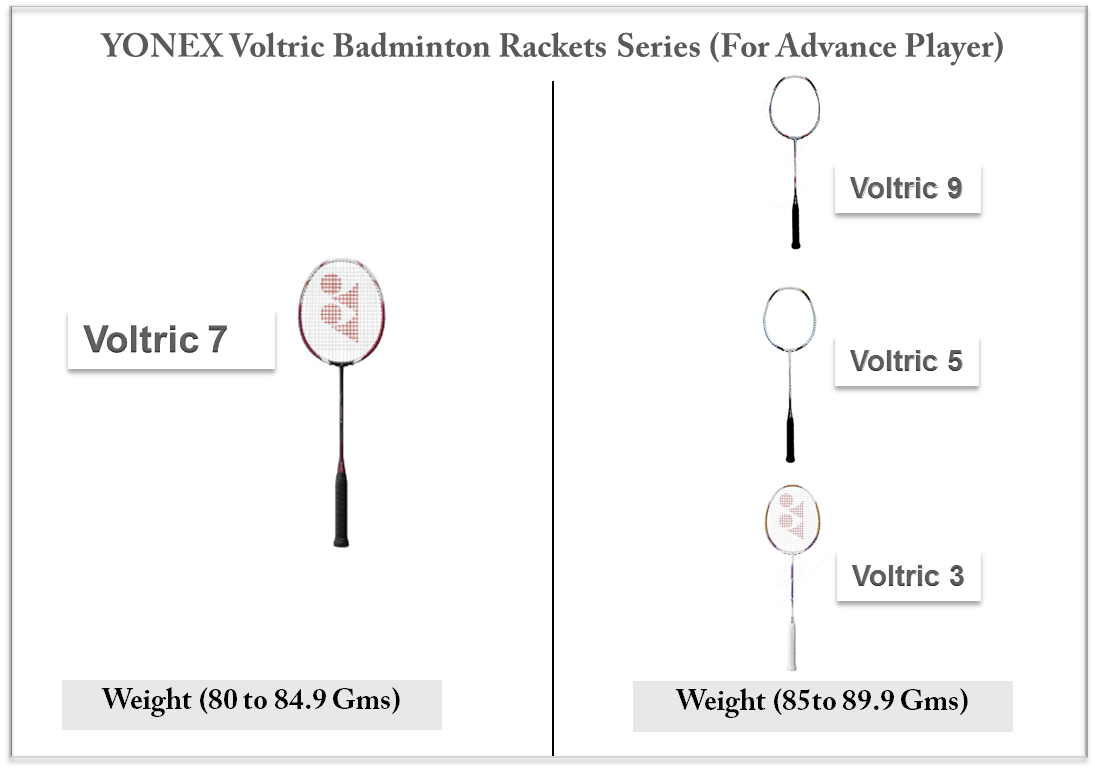 About YONEX VOLTRIC 5:
VOLTRIC 5 is a standard model in Voltric series developed for intermediate badminton players. With Graphite Tungsten Frame and Graphite shaft , VT 5 will provide best in class racket feel in this price range. FLEX is this racket is  medium (Due to its frame material) which gives super easy racket handling and repulsion. Color of racket is Blue with attractive graphics.  Weight of the VT 5 is 3 U .i.e. (85 to 89.9 gms) and available grip sizes are G3 , G4 and G5.
About YONEX VOLTRIC 3:
VOLTRIC 3 is again a  standard model in Voltric series developed for intermediate or average badminton player. With Graphite Tungsten Frame and HM Graphite shaft , VT 3 will provide fast racket handling suitable for those player who wants to surprise opponents with quick shuttle returns. Voltric 3 gives very fast racket handling which is very important todays badminton game scenarios where speed plays key role in point wining strategy. Racket weight is around 85 to 89.9 gms while grip sizes are G3, G4 & G5.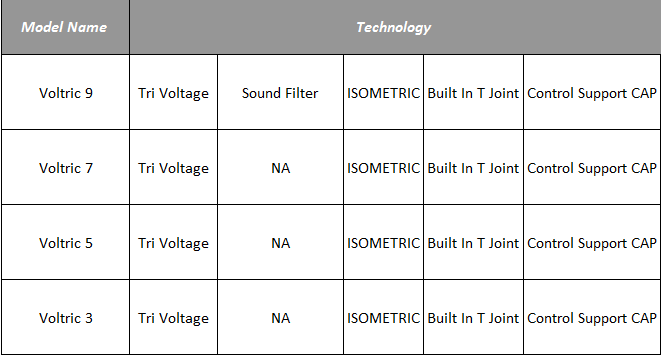 Checkout khelmart.com to see complete range of YONEX Voltric Badminton Rackets