After a successful hit of YONEX Voltric Z Force ,now get ready to handle the power of YONEX Voltric Z Force II. Yes, new and revolutionary YONEX Voltric Z Force II is ready to launch. Developed by YONEX Japan and endorsed by Lei Choung wei , Voltric Z Force II will surprised you with its power and speed.
We all know about the key features of Voltric Z Force , it was a head heavy badminton racket developed on Tri Voltric technology which gives more power (As it is head heavy balance) while its aerodynamic body and slim shaft is designed to give more repulsion and fast racket swing.
YONEX Voltric Z Force II – (Effective Energy Transfer ):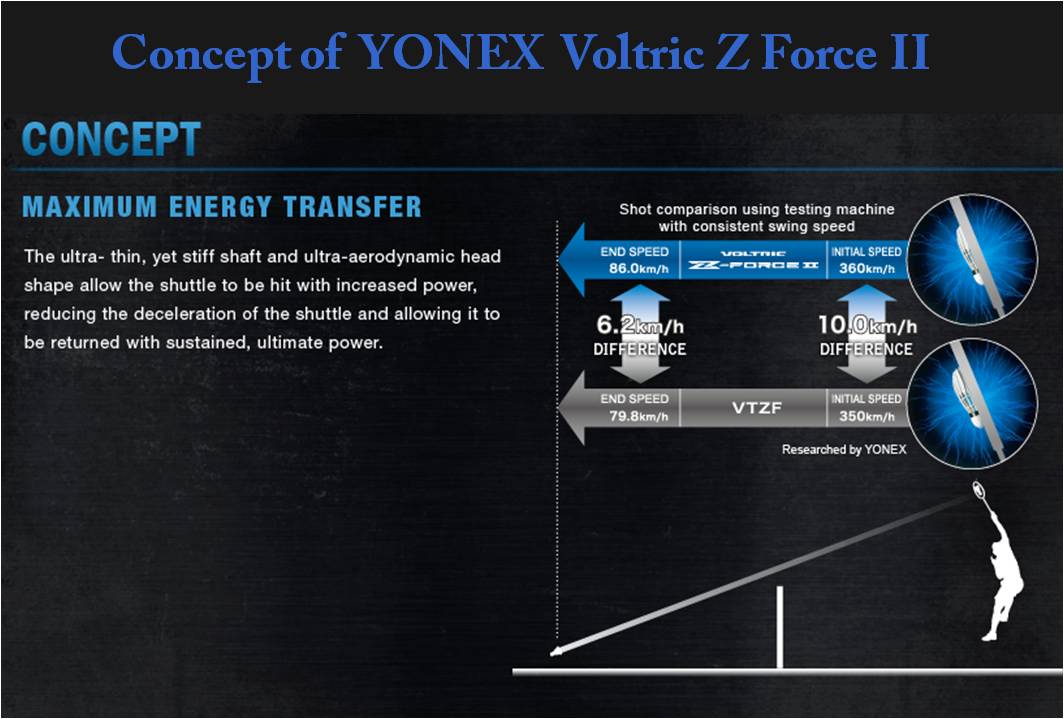 Voltric Z force II is developed with ultra thin shaft – more stiffness and its improved aerodynamic frame head  moves fast in air and eventually generates more power and speed. It also generate less reacceleration as compare to Z Force which result into fast end shuttle speed. Again , the core of more power and speed is revolutionary racket shaft which is very thin and stiff in nature. Voltric II Shaft use NANOMETRIC material which is technological advance and improved material having impact strength of 140 while stiffness is 98.
About YONEX Voltric Z Force II:
Voltric Z Force II is developed with thinnest shaft and improved Tri voltage System. This racket is available in black colour with blue graphics. With HM Graphite frame and Nanometric shaft , Z Force II will give you explosive power in badminton smashes. This racket will be available in 4U weight (83 Gms) with G4 and G5 Grip sizes. It is a made in Japan racket. It will be available in unstrung configuration. Recommended string tension will be 20 t0 27 lbs.
Technology Behind YONES Voltric Z Force II:
Tri Voltage System- Head Heavy badminton racket configuration with aerodynamic frame design to give you more power and speedy racket handling.
NENOMetric : Revolutionary material in racket shaft .
Compact Frame , Isometric , New Grommet patterns , Sound Filter , Solid Feel core , Aero Box Frame , Control Support CAP.
Final Verdict:
YONEX Voltric Z Force II is a upgraded version of YONEX Voltric Z Force. It consists of enhanced features of existing z force.
With new innovation and YONEX trust , this racket will be the first choice of aggressive badminton player.
Badminton Player can checkout the YONEX Voltric Series badminton rackets at Khelmart.com
See Full range of Badminton Racket at Khelmart.com