Table tennis abbreviated as TT is quite a very much technical game compared to other ball game.
As we have different styled players in other games so as in Table tennis.
The defensive, all round and Offensive players and one must choose the table tennis racket accordingly.
The first step for a player is to analyze himself what type of player he is whether offensive, defensive or all round and then choose the right racket (paddle or bat) specially if he is a beginner, also you need to know the correct way to hold or grip the racket.
Below are some guidelines that is associated with Table Tennis and a beginner should know about them.
Gripping: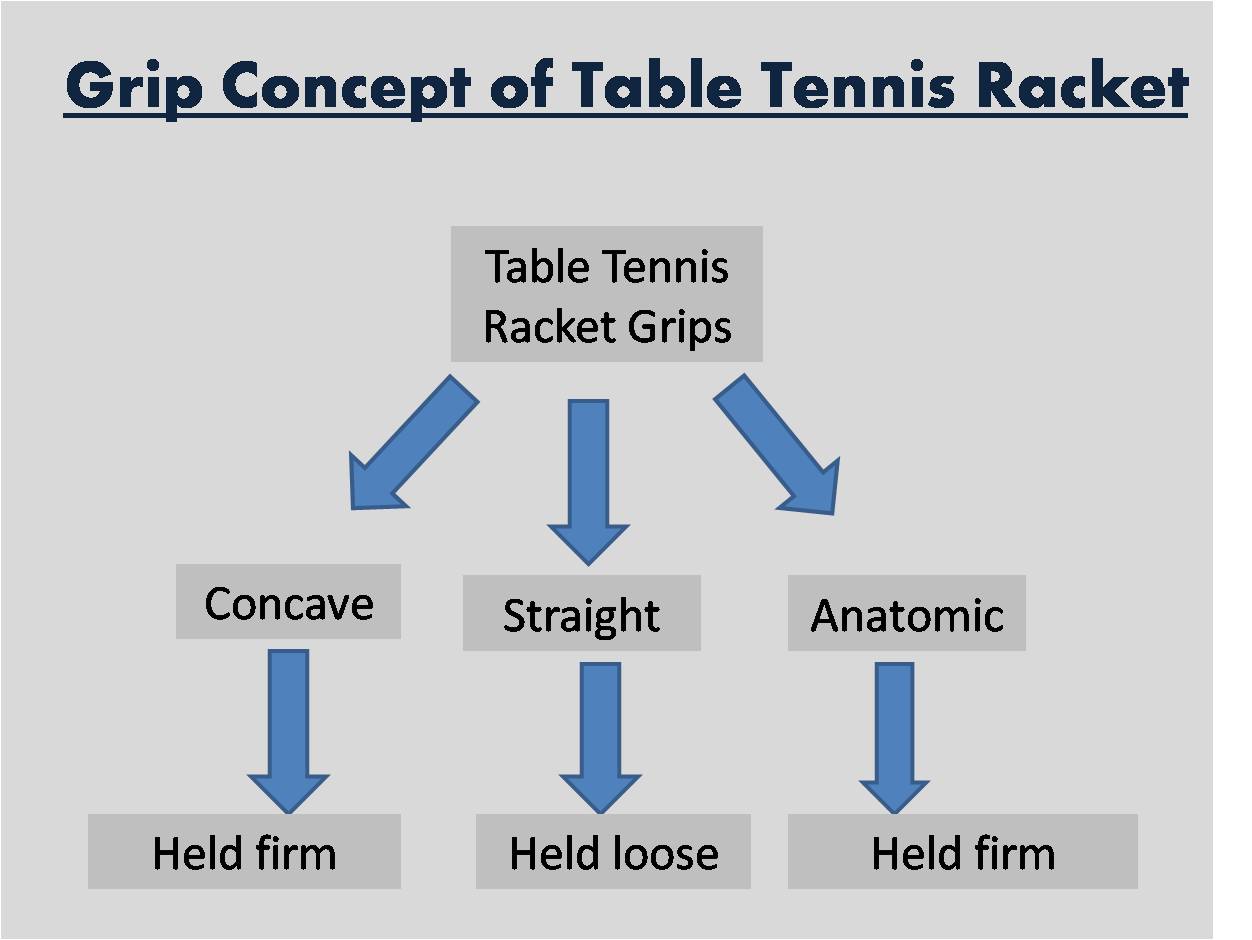 Grip the racket is important while learning Table tennis because if you are using a wrong grip then it would be difficult to change it later on. So ask your coach about the right grip for you, try different grip and see your strength.
You can check your grip with the different handles of Table Tennis racket.
Typically there are three types of handles available
Concave
Straight
Anatomic
Straight handles grip are usually held loose while concave and anatomic handles held firmly.
BLADE CHOICE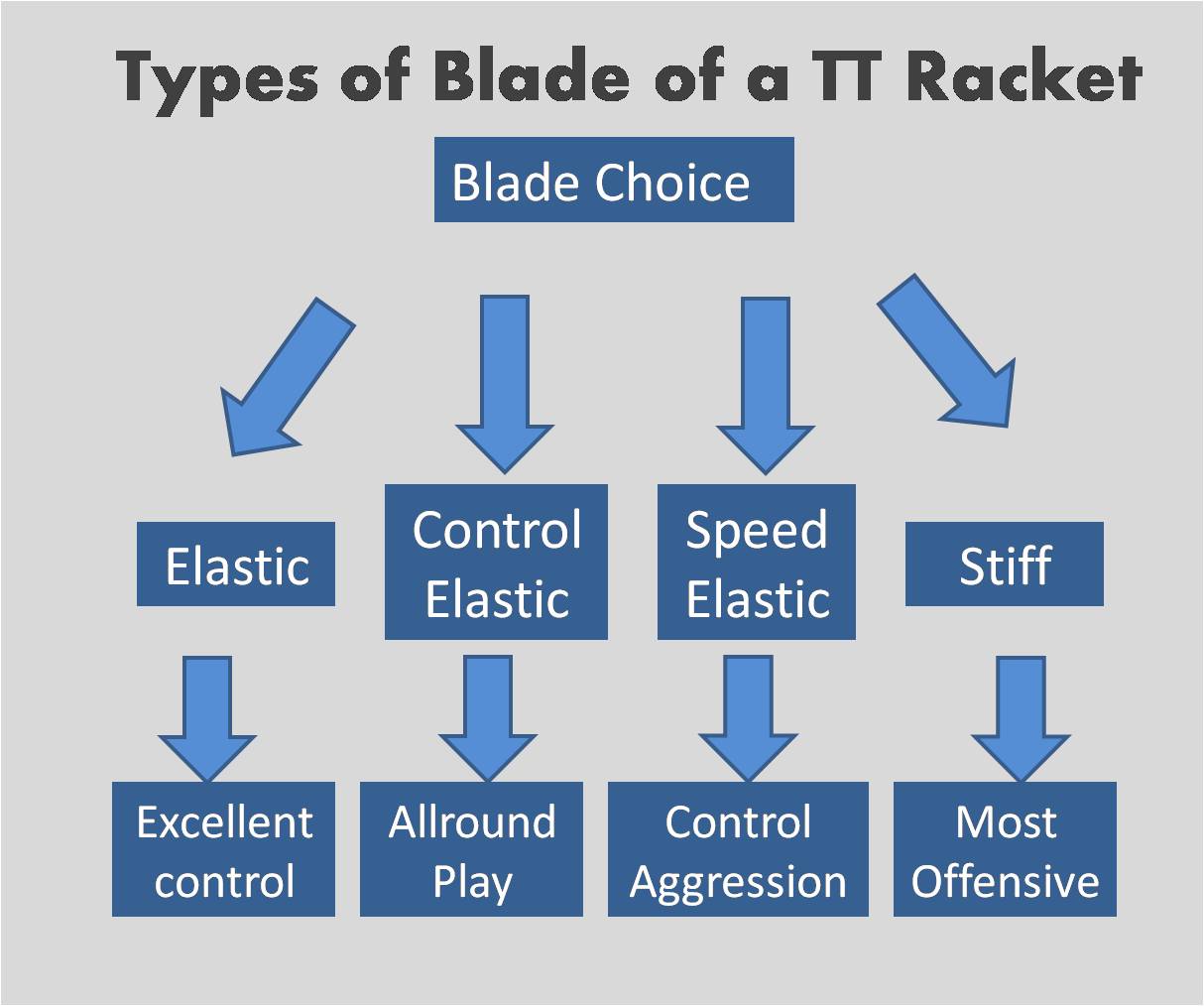 Blades are made of wood and carry elasticity to make different type of blades. Players should keep in mind their style of play while selecting any type of blade.
You can find a Table tennis blade in different type of elasticity as follows:
Elastic:
More suitable for players who want more control on game rather than speed, because of much elasticity ball remains in contact with blade for a longer period compare to other blades and you can feel the contact between the blade and the ball also you will feel the vibration when striking the balls. The elastic type of blades is known for excellent control.
Control-Elastic:
It has features of balanced elastic control, lesser vibration and somehow faster speed then Elastic blades. Generally suitable for all round type of player but can be offensive while combine with spin elastic rubber.
Speed Elastic:
Clearly designed for fast movers of the game, distinct feeling of contact between ball and blade.
Blade is stiffer then control elastic type of blade but has controllable aggression.
Nearly Stiff/stiff:
These blades are really fast and not easy to control, contact time between ball and blade is reduced to a minimum. The vibration is reduced to minimum. Experienced player should use them as control of this type of racket is very difficult.
Rubber sheets: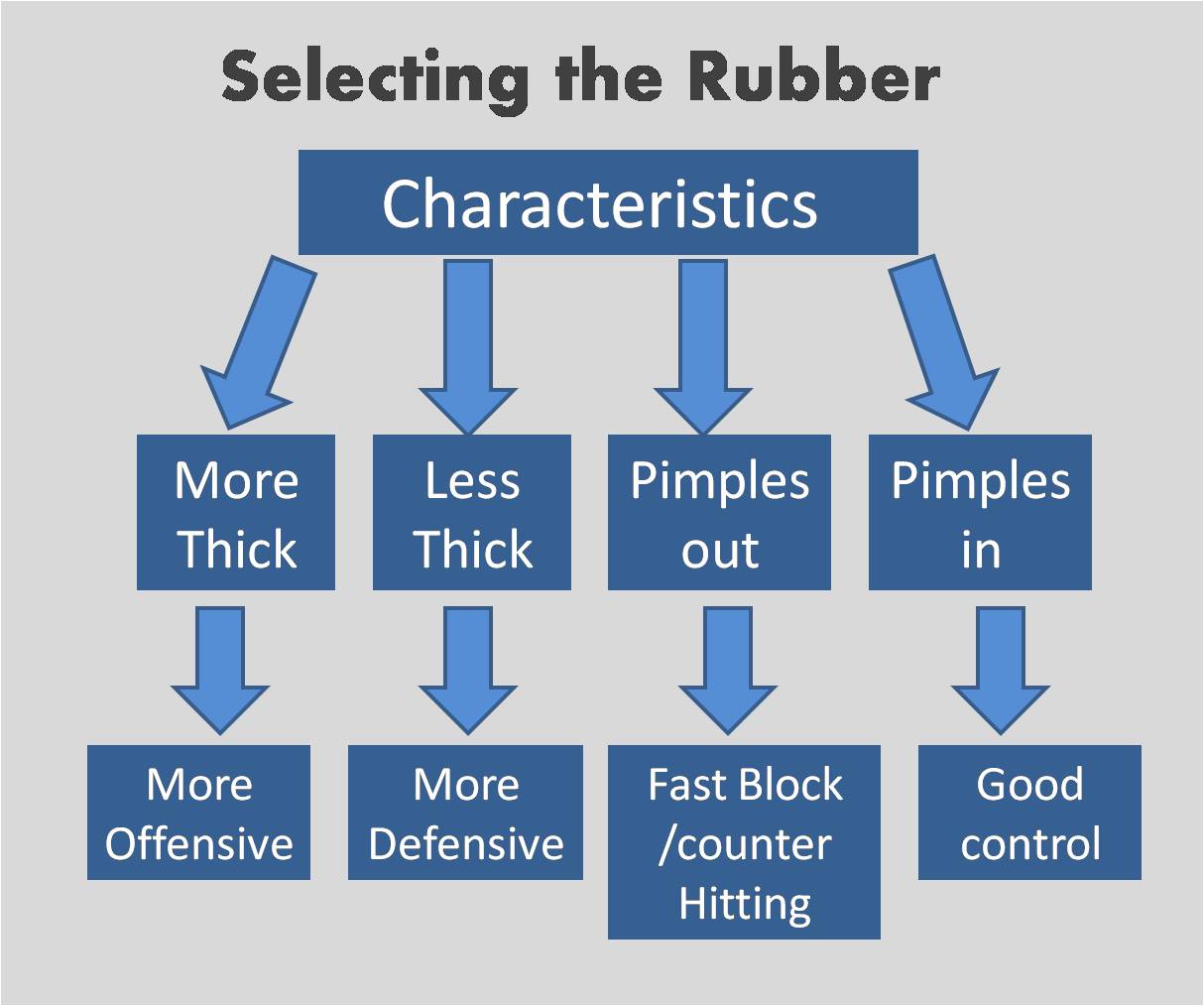 There are basically three types of characteristics a player should keep in mind while selecting a rubber type for his blade.
The thickness of the Rubber/sponge
Table tennis blade rubbers are available in several thicknesses as it completely changes the game. The thicker the rubber, the more attacking/ offensive the blade will be and more difficult to control.
A 2.0 mm to 2.5 mm thick rubber will suit for a offensive player while 1.0 mm to 1.5 mm thick rubber will suit a defensive type of player.
The rubber and sponge are generally preassembled by the different manufacturing companies and they altogether made the thickness of the rubber.
Pimples Out:
Rubbers of table tennis have the pimples either outwards or inwards.
The pimples are made facing outwards, which shows that the smoother side of the rubber is joined to the sponge. Hence the player strikes the ball with the surface which is pimpled.
There are two varieties available in pimples out—short pimples and long pimples. When the ball is struck the pimples they both give a different effect. For the players with a fast blocking or counter hitting game short pimples are suggested, whereas for defensive players, long pimples are the best. To return offensive attacking of unusual spins long pimples are really helpful.
Most of the pimples out have varied thicknesses of sponge beneath them. There are some which don't have any sponge beneath them are called 'OX'.
Pimples in (Reverse rubber):
The other kind of table tennis rubber have pimples facing inwards to the sponge hence the players hit the ball with the smoother side of the rubber.
This is the mostly followed way of rubber because it gives a full range of strokes to be played.
It is commonly called as reverse rubber.
Reverse rubber gives the player a good control and helps a beginner to develop the strokes.
For established players who play in a particular style, pimpled rubber is suggested.
What does khelmart suggests:
For beginners khelmart suggests the use of reverse rubber.
For developing your strokes you should use the same kind of rubbers on both the side of your racket.
Selecting a particular brand will not help the player because what is important is that the player should choose right kind of rubber. Player choice should depend on his/hers style of playing.
Hence the player should first make sure his/hers Way of playing and then opt for the right rubbers which will suite his/her game the most. If you are not sure of your style of playing then, khelmart suggests you to go for an ALL ROUND racket category.
Most of the player can opt for a blade and rubbers of allround specifications initially. 
Players can checkout the full range of table tennis rackets at khelmart.com