Stag International Table Tennis is a well known brand in the field of TT Sports. Stag produces quality Table Tennis equipments like TT Rackets, TT Blades, Table Tennis Tables, Ball and other accessories with high quality standards.
Table Tennis rackets by stag international are equipped with finest quality wood material with perfect treatment while its rubber are scientifically designed which gives perfect combination of power, speed and spin.
In this post, we shall explain the best stag table tennis rackets.
Stag Ninja Attack Table Tennis Racket:
Specifications of the racket suggest the racket is made for player who wants to dominate the game. Spin rank of 92 out of 100 with speed rank 88 is a rare combination and shows deadly aggression. Control is 78 out of 100 are very good for an offensive racket. Racket is crafted for absolutely offensive play, you can surprise your opponent by giving him a sudden top spin shot with this racket.
Grip is again in concave design for experiencing better control with thick sponge to give you a stiff feeling of the racket.
Vibration is reduced to a minimum still you get a clear feeling while hitting the ball.
More aggression and enhanced spinning characteristics is the main advantage of the racket.
Stag Power Drive Table Tennis Racket:
This Power Drive racket from Stag is one of the best selling model in Table Tennis rackets. The racket has proper blend of power and control. It has concave comfortable grip which allows you to hit controlled strikes.
Stag International Attack Table Tennis Racket:
Stag International Table Tennis Racket is comes with Speed-80, Control-90, spin-75 Rating. These configurations along with enhanced rubber material & superb quality blade will give you a balance between power and control. Its blade is made of fine quality wood which gives perfect stiffness and ensures the better control on tennis ball. With better control, player can effectively place the ball to opponent side. This Table Tennis Racquet is equipped with specially designed grip which give super fine comfort and player can quickly adjust the Racket to meet the pace of the game. This racket comes with plastic protective cover which will give proper packing and ensures that racket will be safe from wear and tear.
Stag International Table Tennis Racket:
Racket is designed to give maximum performance to an emerging player.
Racket Rubber is ITTF authorized.
Racket is crafted for all-round play, you can play offensive game as well as defensive game with equal skills. Much better control and enhanced spinning characteristics of the racket. The comfortable Handle of this racket is designed as concave to give better grip and maximum control while playing offensive game. You will get a crisp and clear hitting sound of the blade when striking the ball.
Vibrations of hitting the ball are comparatively less shows the characteristics of control-elastic blade.
Following Sheet Show the List of Stag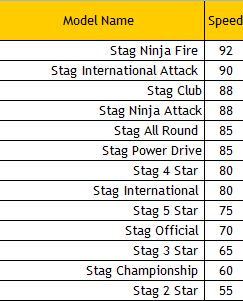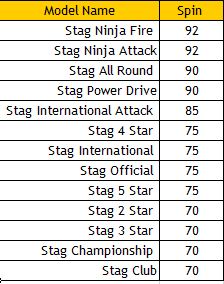 Above said models are higher end table tennis rackets in Stag brand , TT Player can check out full range of Table tennis rackets at khelmart.com, They can also check Only STAG brand table tennis rackets.