Nowadays, Whey Protein supplements are very common in bodybuilder & athlete community due to its proven results. Whey Protein supplements gives better results, easy to use and it is known as effective health supplement for all age groups. Consuming whey protein can also give multidirectional health benefits like maintain the optimum level of cholesterol, Helps in weight loss, preventing allergies in infants, late-stage cancer and many more. Whey Protein supplements gives very quick results as it comes in ready to digest form which helps in quick digestion results in fast protein digestion and quick absorbing by muscle and other body parts.
There are different types of whey protein supplements are available in market with different brand and all brand are claim as best whey protein supplements. We need to carefully check the parameter of whey protein in order to buy it. In this article we shall explain the best 5 whey protein health supplement available in market with detail analysis. With this guide, user will get better idea of whey protein health supplement.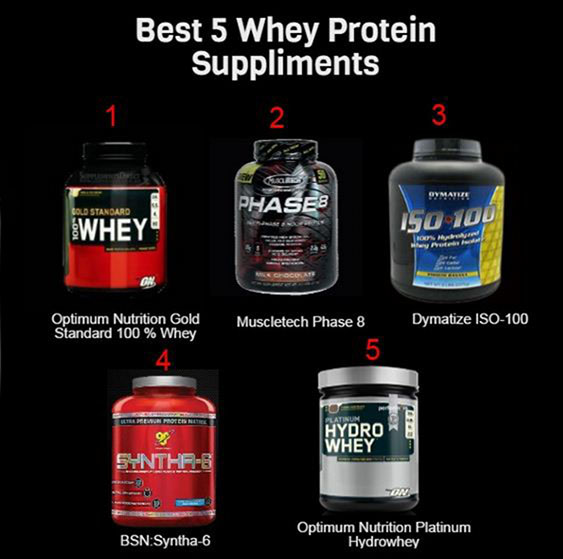 Optimum Nutrition Gold Standard 100 % Whey:
ON Gold standard is known as best whey protein health supplement as it consists of quality protein profile, economical proteins per serving and equipped with all essential amino acids required for rapid muscle growth. ON Gold standard 100% pure whey give better results to athlete in minimum time span. ON Gold Nutrition will provide cost effective protein serving per day and number of serving per box,it also be more as compare to other Whey Protein supplements.  It is equipped and prepared with high quality whey protein Isolates which gives you easy to digest protein shake with low fat and cholesterol. With per serving , On gold Standard will give you 24 gms of whey protein , 120 calories , 1 gms of fat and 3 gms of carbohydrate with fast digestion rate.
Muscletech Phase 8:
Muscletech Phase 8 will give you 26 gms of protein which will be milk driven protein for better results and performance.  Phase 8 is developed with high quality milk driven protein which is equipped with whey Isolate, Hydrolyzed Whey Protein Isolate, Whey Concentrate, Milk Protein, Calcium Caseinate. All these protein are combines with unique formula which is design to give you better protein profile with different digestive rate. As its digestive rate in different so it will give you better recovery system in which protein will be absorb by muscle at different rate and need of body to get maximum benefits.
Muscletech Phase 8 is a unique formula which will provide you amino acids after taking the supplement as it's equipped with sustained release protein system. As it is equipped with sustained released protein profile so you can take this protein any time and it will fulfill the protein required based on body need.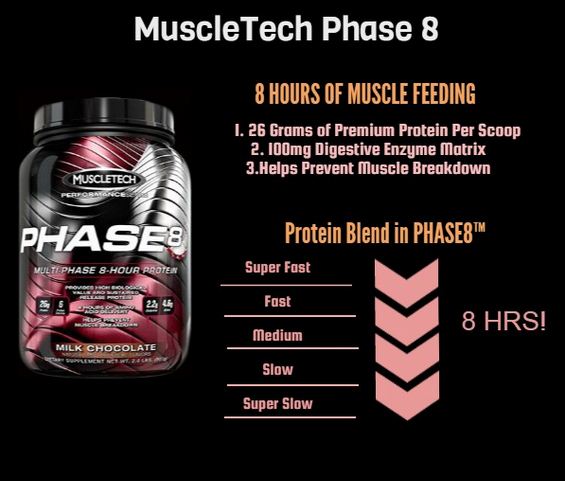 Dymatize ISO-100:
Dymatize ISO-100 is award winning health supplement which is developed with fast absorbing protein hydrolyzed 100 % whey Protein. It is included with 5.5 gms of Branched Chain Amino Acids and 25 gms of whey protein. It is free from fat and lactose.
Dymatize ISO-100 gives 25 gms of pure 100 % Whey isolate which is fast absorbing in nature and gives fast amino acid metabolism results into effective muscle recovery system. It is processed with cross-flow microfiltration processing (cold-filtered). This type of protein processing sustains the important protein fractions which is very critical for muscle developments. With improved formual and protein processing, Dymatize ISO-100 gives better results which you want and eliminate the unwanted fats and lactose. With only a short list of ingredients, it is easy to see why ISO-100 is one of the purest proteins available. In addition, ISO-100 is produced in our own GMP manufacturing facility and is Informed-Choice.
 BSN:Syntha-6   
BSN Syntha 6 is new whey protein formula which gives best taste protein supplement which is equipped with quality protein profile. It gives best quality protein to athlete required to build big muscles. As it is equipped with 6 different types protein and amino acids so it is known as Syntha-6. It is comprises of Whey Protein Concentrate, Micellar Alpha-and-Beta Caseins and Caseinates, Whey Protein Isolate, Egg Albumen, Calcium Caseinate and Milk Protein Concentrate. Syntha-6 is a combination of fast releasing whey protein and slow release egg protein. With this combination, athlete will get easy to absorb protein profile which gives better results. Further, Syntha-6 is prepared with slow releasing the protein which means you don't need to take further protein supplements as it will keep releasing the protein after 1-2 hrs of intake. BSN used digestive enzymes in Syntha-6 which makes it easy to digest and give very fast result. To improve it value , BSN added the 5 gms of fiber in Syntha-6 ,added Fiber will helps in better digestion system.
Following are the key highlights for Syntha-6:
Ultra-Premium Protein
Ultra-Premium Taste
Equipped with all essential amino acids and BCCA
MCTs, EFAs, Glutamine Peptides, and Fiber
Zero Milligrams of Aspartame
 Optimum Nutrition Platinum Hydrowhey:
Optimum platinum hydrowhey is latest hydrostate whey protein from On Nutrition. In platinum hydrowhey , ON developed new technique in which protein synthesis is done in such  way which break done the large protein particles into smaller ones. This additional protein break down process into smaller particle gives better protein profile which is easy to digest and absorb by muscle quickly. With new and innovative protein synthesis technique, platinum hydrowhey gives better results in minimum time. On Platinum hydrowhey is equipped with ACTITOR™ peptides, digestive enzyme which gives better digestion of protein and better muscle recovery. It is prepared with latest processing technique which gives finest whey protein profile available in ON Catalogue. As it is prepared with improved and innovative formula so it gives following additional benefits:
It is equipped with 30 gms of Purest form Protein per serving.
Consist of 9 gms of Leucine, Isoleucine, and Valine.
Almost no Cholesterol or Lactose
Provide you Digestive Enzymes for better digestion system
Smaller particle helps in easy mix (Instant Mix)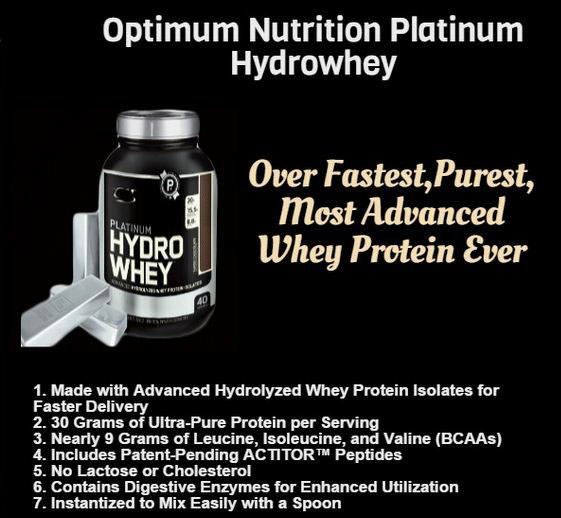 Get Better Results with Optimum Nutrition Platinum Hydrowhey:
This whey protein supplement gives better results as it is prepared with hydrolyzed whey protein which gives better protein profile which is free from lactose, cholesterol, carbohydrates, and fat. As it is made from hysdrozise protein synthesis process which is basically a process in which large protein profile is break into small peptides. This New and innovative protein processing gives better whey protein which gives fast results. Study shows that branched chain Amino Acids helps in growing new muscle tissues and helps damage muscle in fast recovery. ON uses optimum level of BCCA in Platinum Hydrowhey to give better formula which will enhance the muscle recovery process.