About Donic Waldner 900 Table Tennis Racket-
Donic Waldner 900 is fast and relatively light offensive bat, it is specially designed for those players who want to dominate in their game with aggressive table tennis shots. Speed and spin rank of 100 out of 100 and control is 60. This top line of racket allows sophisticated and fast play of all techniques with enhanced spin. Waldner 900 is constructed with 5 ply wood, easy slick rubber, concave handle and 2.1mm sponge for outstanding performance. Waldner 900 table tennis bat is the offensive version for advance offensive players with greater speed and spin. Further, Donic Waldner 900 gives superb speed and fantastic feel in every playing situation. Donic waldner technology is ABP, ASG, AVS, Ergonomic handle, quick rubber change and anti vibration system.
About Stag International Table Tennis Racket-
Stag international racket is comes with speed-80, Spin-75 and control-90 rating. Stag international is designed to give maximum performance to an emerging player. The comfortable handle of this bat is designed as concave to give better grip and maximum control while playing offensive game. Its racquet is made of fine quality wood which gives perfect stiffness and ensures the better control on table tennis ball. This bat is suitable for a startup and intermediate players give you an all-round play experience. Stag international technology is CR (Combi Revolution) system and reserved pimple rubber.
Case Study Results:
Case study result shows the mix opinions. Based on the answer of different players, it is come up that Donic waldner 900 is first choice of those player who actually want to generate more power on shots with great speed and spin. The ball control for touch shots and slower play is amazing with this racket. Donic Waldner 900 is one of the high ratios of speed and spin in a racquet. There is small number of people who says that waldner 900 is little slower but that number is very less around 6-7%.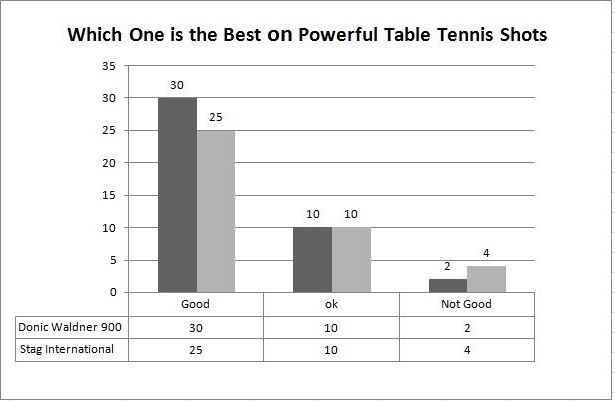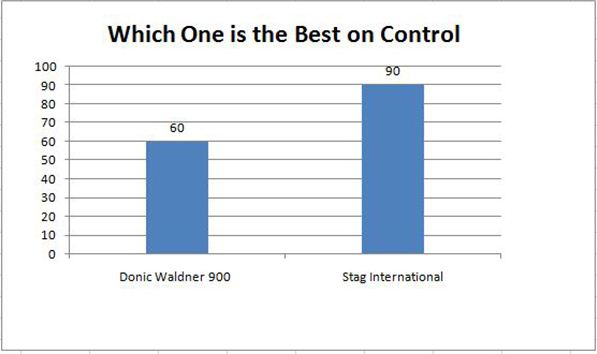 Donic Waldner 900 is very speedy table tennis racket and also choice of many players. It's got smaller sweet spot as compare you stag international so you need to very careful when play with it. If you are aggressive player and want to generate more power on shots than Donic Waldner 900 will be perfect for you. Waldner 900 racket is best suitable for advance level players. While, if you are intermediate player than go for stag international.
Check Out the Full Range of  Table Tennis at Khelmart.com