Comparison between Yonex Arc Saber 6 and Li Ning Aeroflo 2004
In this blog, we shall explain you the difference in YONEX badminton Rackets Yonex ArcSaber 6 and Li Ning Aeroflo 2004 Badminton Racket. Both the rackets belongs to Intermediate Badminton series and designed for advance badminton players. Arcsaber 6 weight is around 76 Gms which very less and suitable for those who wants to player with lighter weight badminton rackets. Li Ning Rackets are choice of many international players.
Yonex ArcSaber 6 Badminton Racket: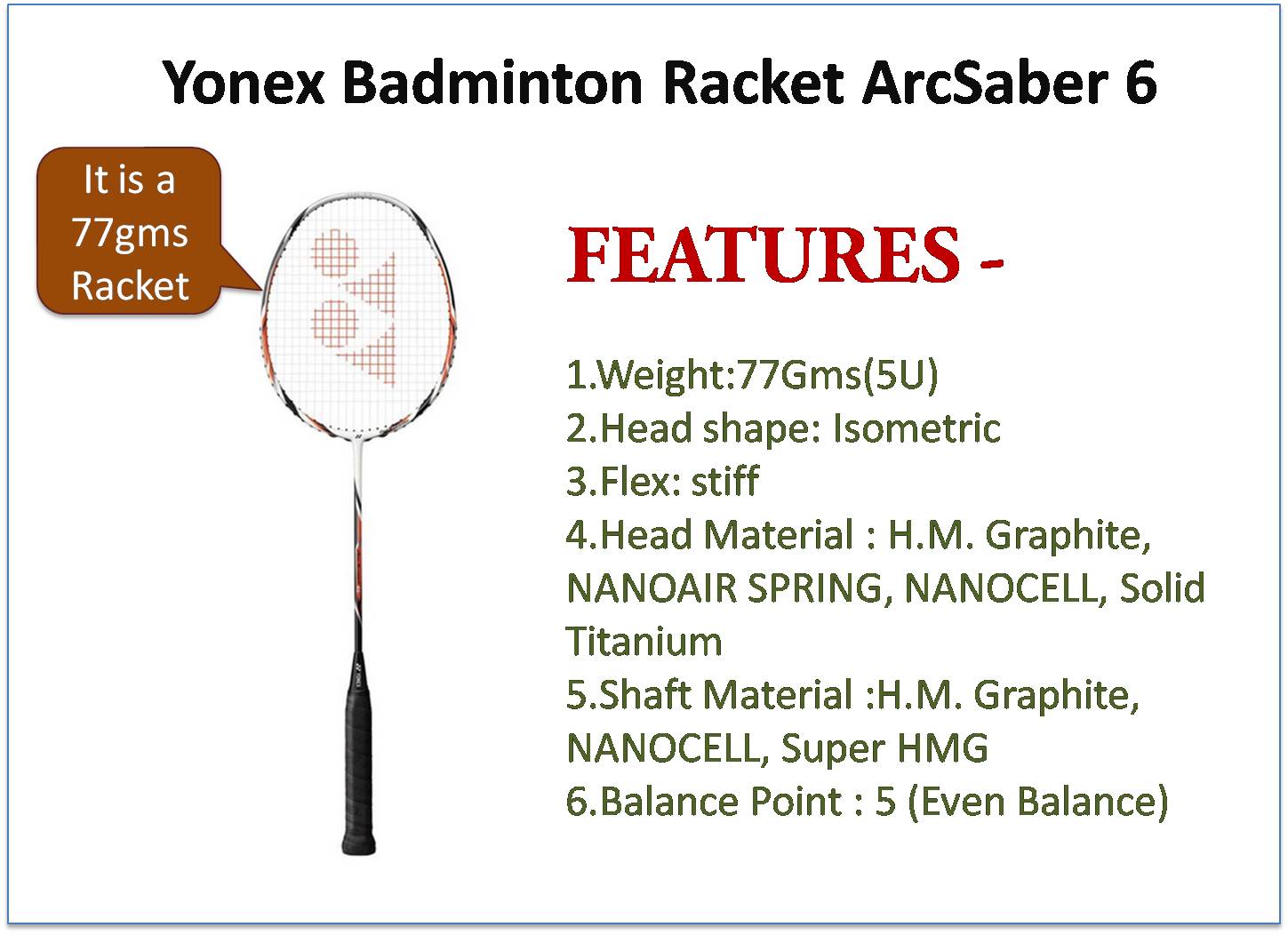 Yonex ArcSaber  6 Racket is belong a heavy head series in which racket gives more smash power while you'll get slow racket movement due to head heavy series. Yonex arcsaber 6 racket is equipped with Aero dynamic frame gives minimum air resistance and allow badminton players to get maximum swing speed. Yonex ArcSaber 6 is a light weight Badminton bat and it will provide you powerful badminton smashes.
Technology of Yonex ArcSaber 6 Badminton Racket:
YONEX Arcsaber series is designed for those players who want to control the shuttle with more accurate and precise manner. YONEX developed new and innovative material technology named as CS Carbon Nanotubes placed at side of racket frame. With accurate placement of CS carbon nanotubes in racket frame, it's enhanced the elasticity of frame and results into holding the shuttle on badminton racket string bed for longer time. Due to this extra time, player get more control on badminton shuttle and place the shuttle more accurately.
CS nanotube are developed by layering the nano carbon fiber in predefined manner to get best in class material performance which give better elasticity , more repulsion and extended durability to racket frame. CS nanotube ensures the frame flex in controlled manner when shuttle hits the string bed and release the shuttle more precisely. With the help of this types of racket badminton player can place the shuttle in more control way. It will help in placing the shuttle from 3rd line to corner drop shots, fast drive shots in order to get quick points during opponent attack, strong backhand shots and first line net work.
YONEX also incorporated the T anchor technology in Arcsaber Badminton rackets series which placed at racket T joint. T anchor controls the torque when shuttle hits the rackets string bed. Due the T anchor technology, Badminton player feels more control on shots. YONEX Arcsaber FB , Arcsaber 11 , Arcsaber 6 , Arcsaber 7 are the famous rackets in this series
Product Specifications:
Weight: 77Gms(5U)
Head shape: Isometric
Flex: stiff
Head Material :  H.M. Graphite, NANOAIR SPRING, NANOCELL, Solid Titanium Shaft Material : H.M. Graphite, NANOCELL, Super HMG
Balance Point :  5 (Even Balance)Li Ning Aeroflo 2004 Badminton Racket: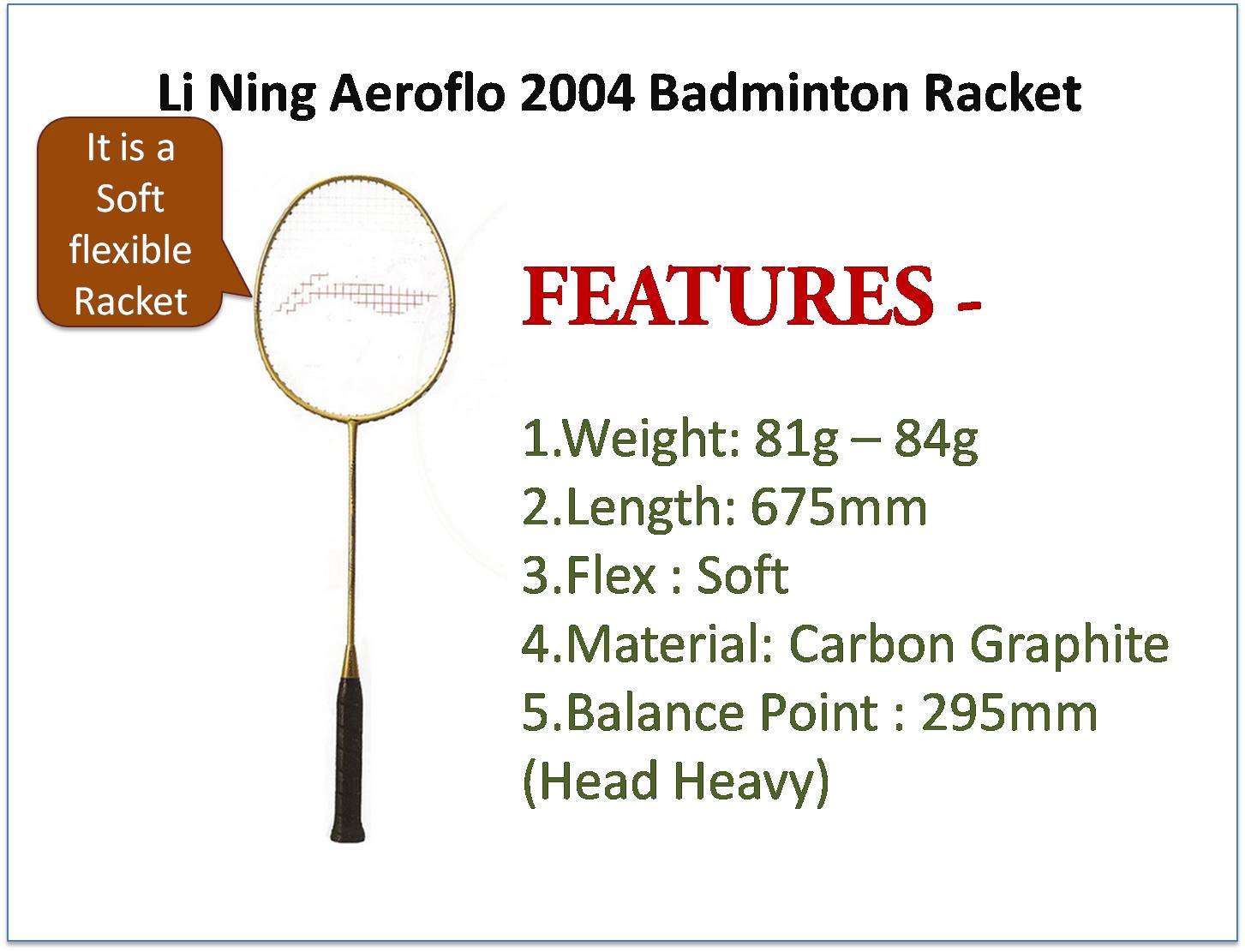 Li Ning Aeroflo 2004 Badminton Racket is a Flexible racket which means it will give you easy racket handling as compare to arcsaber 6. Aeroflow is designed for advance badminton player. With 81 G of weight and 675 mm length racket length, it is deadly racket for all round type of performance.
 
Product Specifications:
Weight: 81g – 84g
Length: 675mm
Flex : Soft
Material: Carbon Graphite
Balance Point : 295mm (Head Heavy)