About Cricket Helmet:
Cricket helmet is most important protection device used in the game of Cricket. If player is playing without helmet (or helmet with non protective features) than it could lead to serious injuries. After all, we cannot forget the Phil Hughes.
After Phil Hughes incident, ICC further standardised the norm for cricket helmets:
Following are the key observation of ICC rules for Cricket Helmets: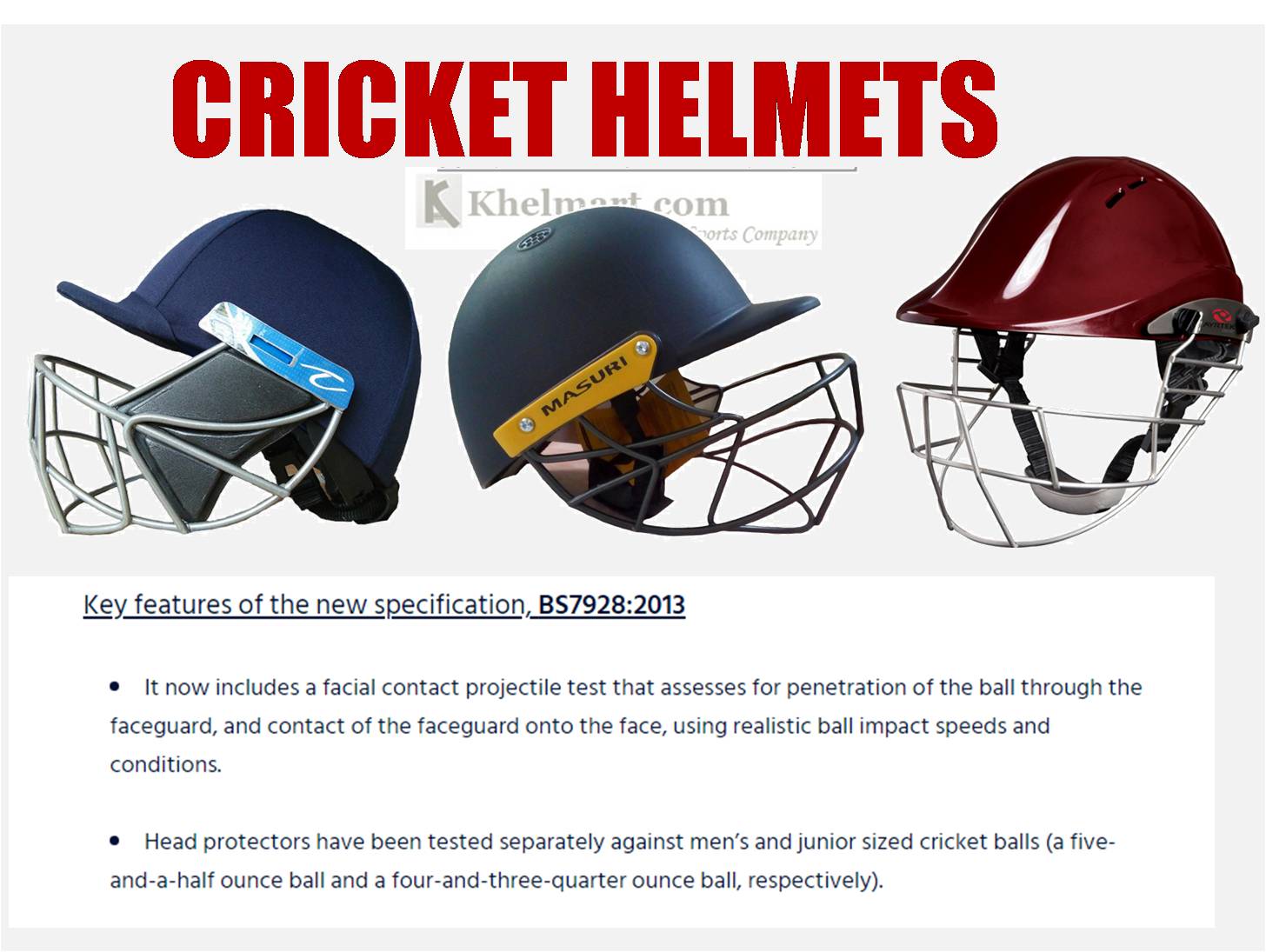 As per ICC rule, it is mandatory to wear helmet and helmet should manufactured as per new British Standard (BSI) – BS7928:2013.
As per New BSI BS7928:2013 , Helmet should pass the facial contact projectile test. In facial contact projectile test, it standardised the faceguard so that ball cannot penetrate it.
There is strict head protection test in which it should test separately with cricket ball (a five-and-a-half ounce ball and a four-and-three-quarter ounce ball, respectively)
Following are the List of companies who already compliance with British Standard (BSi) – BS7928:2013 (Ayrtek ,Dukes,Ganador, Gray-Nicolls,Gunn & Moore,Incredible Cricket Company,Kookaburra,Masuri,Buffalo Sports,MRP ,Stanford Cricket Industries Sports,Protech,Shrey,Reader ,RAM ,Slazenger,Yonker)
Now while we understand the international safety standard for cricket helmet, it is good to know about the important point which you need to know before you select cricket helmet.
Check your playing level: Based on your playing level, you can select the cricket helmet. A entry level player don't required costly cricket helmets:
Helmet should be lightweight in nature. Lightweight helmet give player ability to quickly move his/her head against bouncy cricket ball.
Helmet inner surface should be soft enough to handle the impact load so that player confidence faces the fast bowling attack.
Helmet out shell should be made of lightweight and strong material which can sustain high speed ball impact.
Normally Helmet grills are made of stainless steel or titanium material grills. Titanium grills helmets provide better strength and long lasting performance to players.
Cricket Helmet strap should made of good material with proper lock mechanism.
For irregular head size, player should select helmet with adjustable lock system.
So, while we understand about Cricket helmets, it is equally important to understand the best cricket helmets available in the market.
Here is the list of best cricket helmet which players can consider while they shop cricket helmets online.
List of Best Cricket Helmets
#1 Masuri Vision Series Elite:
Masuri Vision series helmets are developed with Halo Reinforcement System. HRS is the latest reinforcement system developed by Masuri for its vision series. HRS system is basically extra reinforcement ribs inside the molding composite. With HRS system in place, Batsman can confidently play against fast bowling attack (90MPH)
Masuri Vision Elite helmet is developed with finest design Airflow System. Air flow system is small air vent which is placed inside the helmet for proper air ventilation.
#2 Masuri Vision Series Test:
Masuri Vision test helmet is pro level helmet with latest helmet technology used by Masuri.
Vision test helmet is developed with ultra light composite material which is ultra lightweight in nature and provides better protection and impact resistance strength.
To improve the airflow inside the helmet, Masuri Vision test is developed with advance air vents which gives better air circulation
To improve the overall strength of the molding, double shell concept is used.
#3 Masuri Legacy:
Masuri legacy is developed with composite material which is considered as strong material and gives confidence to cricket players to handle the fast bowling attack.
To provide better comfort and shock absorbing ability, Masuri used high cushion pads which are placed at internal surface to cell.
Its outer cell is made by advance molding technique which gives ergo shape for cricket helmet. Masuri legacy cricket helmet is made of fixed steel grill which is developed with unique shape and design. Steel grills provide better strength and clear vision to player.
#4 Shrey Master Class Air:
Shrey is world leader in producing the cricket helmets, Shrey cricket helmets are used by lots of international cricket players. You can identify them by checking the Shrey logo on backside of the helmet.
Shrey Master Class Air Helmet is developed with lightweight material which gives helmet with the weight only 920 Gms. With this weight, it is unique helmet with all new safety features.
#5 Shrey Pro Guard:
This Shrey Cricket Helmet is equipped with better cushioning pads at back side so that player can get better comfort. New and scientifically designed front grill offer better safety and vision to players.
To improve the overall airflow system within the helmet, Shrey Cricket used advance air circulation system which provides better ventilation. Shrey Pro Guard is most popular cricket helmet among the cricket players due to its low cost, light weight nature and innovative, new features.
Shrey Cricket used three layer of composite fiber material for making This High Quality Cricket Helmet. Composite material is lightweight in nature while its durable and tough enough to handle the fast bowling attack.
#6 MoonWallkr Mind:
Moonwalkr Mind is Worlds 1st helmet with extended lower head protection, This type of configuration don't require the stem guard required. This reduces the overall weight and improves the protection of helmet.
This MOONWALKR CRICKET HELMET front side the designed with lots of research and tried many combinations to offer best shape which give clear vision without compromising the safety.
MOONWALKR MIND HELMET is developed with 30 air vents which give best air ventilation within the helmet so that player can play long cricket inning without sweat.
#7 Kookabura Pro 700:
Kookaburra Pro 700 helmet is developed with comfort fit concept in which two sizes can be accommodated in single helmet type. Comfort fit concept also provide better fitting and comfort to player with close fitting concept.
Further to improve the overall better helmet experience, Kookaburra used KCS dial. KCS dial allow players to easily adjust the helmet for better fitting. It always recommended having better fitting as better fit helmet offer better vision and protection to players.
Airflow vent are position inside and outside the helmet so that proper air flow can be achieved. This proper airflow helps in better ventilation eventually results into better freshness in helmet.
This Kookaburra Cricket helmet is developed with ABS protection system which provides lightweight cricket helmet feel along with best in class safety features.
#8 Albion Cricket Helmet:
This Alboin Cricket Helmet is manufactured polypropylene based material which gives durable inner shell for better strength and life to helmet. Further, Alboin used Quick Fit concept in this helmet. Quick fit concept helps in better fit and comfort to players.
Lock system is important part of cricket helmet, Alboin used quick release system in this helmet which offer easy release but secure lock system.
To absorb the shocks, Alboin used Foam insert technology in which high density and high residence foam is used inside the shell. This new technology helps in absorbing the shock and offers better comfort to player.
Checkout the Masuri Cricket Helmets
Checkout the Shrey Cricket Helmets