Donic is one of the most important table tennis brands worldwide. Donic rackets are known for its quality, control, speed and innovation. It is excellent results for donic bats. To be the first on the market with a new Donic custom like: Blades, Rubber and Tables. Blades technology is DOTEC, SENSO and EPOX. Rubber production technology is FORMULA DONIC, DONIC COPPA and DONIC DES, BLUEFIRE. Table's technology is SUPER COMPACT and TWIN COMPACT. Donic Table Tennis Rackets is one of the most renowned table tennis brands in the world. This article will explain the Donic table tennis rackets technologies for blades:
Donic Dotec Technology-
The Dotec Technology is a wood particle technology developed by Donic for the specific manufacture of table tennis blades. It is the first wood expertise without awkward edges. Donic developed a smooth blade without sharp edges. Therefore, important to ensure a perfectly smooth movement between blade and handle. Dotec technology provides a blade with a completely smooth handle and it will provide you all together a different feel and control. There are different versions available for left and right handers. It is a perfect combination of quality, control and speed.
a)    Donic Waldner Dotec AR-
The combination of Limba and Balsa plies produced by Donic  dotec technology. Dotec net lies directly under the Limba layer ply. The middle layer consists of 0, 6 mm Limba ply. The core is made out of 4, 5 mm Dotec-Balsa. Speed rank of 85 out of 100 and control rank is 80 and the weight is 70 gm. While the feel is amazing when returning the ball and result is wonderful in terms of speed and control. Table Tennis Player gets more power on shots while its perfect balance helps in racket stability.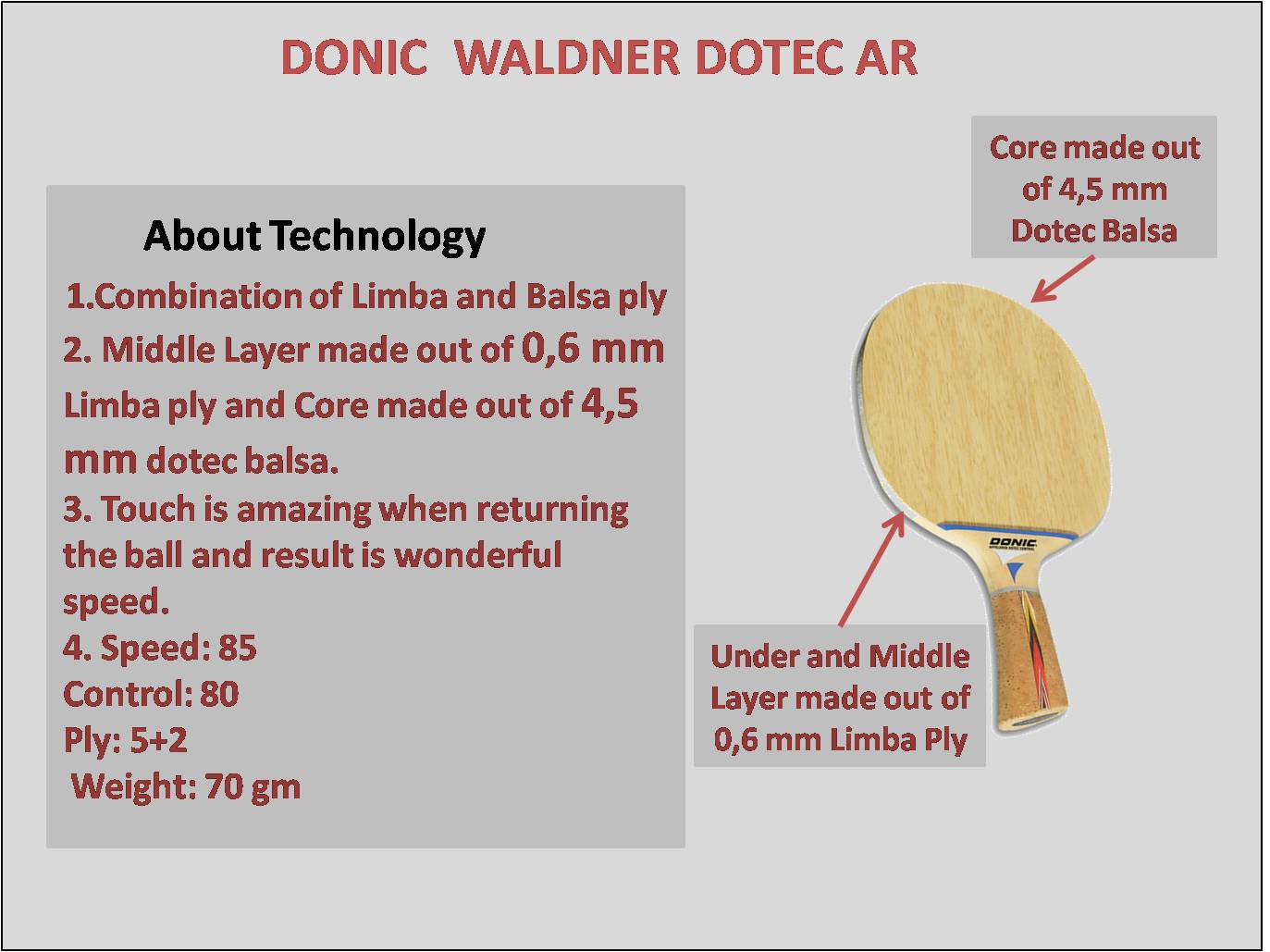 b)   Donic Persson Dotec off-
Persson Dotec off is prepared with addition of the well-known Japanese Hinoki wood, in Combination with Koto and Balsa plies. The cover ply is constructed of Japanese Hinoki addition with a middle layer of Koto plies. The core is prepared of 5.0 mm Dotec-Balsa. Speed rank of 90 out of 100 and control is 75 and the weight is 75 gm. This is a light weight table tennis blade with superb handle. It's Great offensive table tennis blade with DONIC Dotec technology specially designed for those player who want to dominate in the game with aggressive table tennis shots. Further, Donic Persson Dotec off gives superb speed and fantastic feel in every playing situation.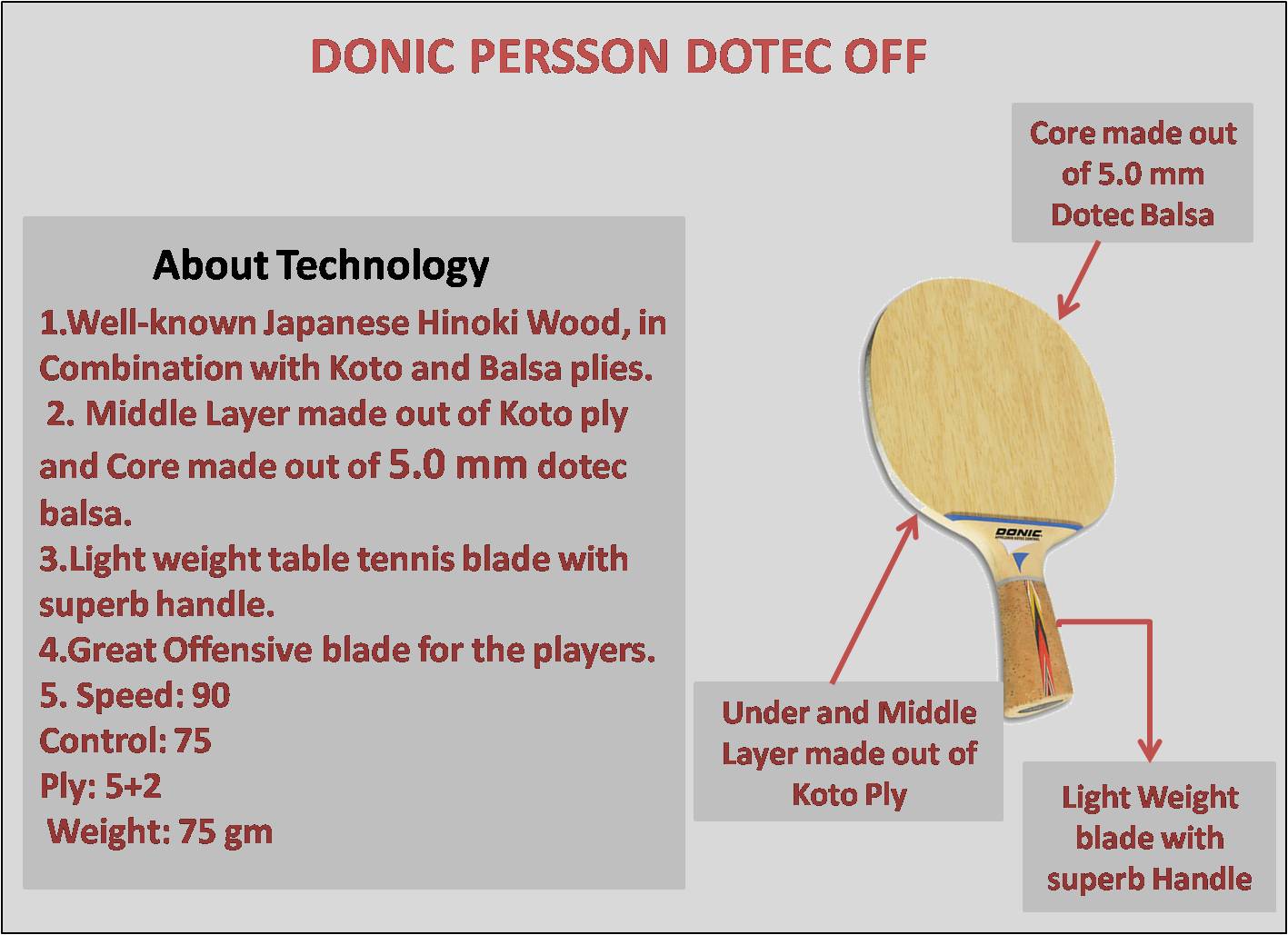 c)    Donic Waldner Dotec Carbon-
Donic Waldner Dotec Carbon is the combination of carbon, Limba and Balsa. The carbon layers are located on top of a 4, 0 mm strong Balsa core. Top and middle plies consist of 0, 6 mm Limba for each ply. Speed rank of 93 out of 100 and control is 75 and the weight is 80 gm. Donic Waldner Dotec Carbon ensure the wonderful speed and control. The ball control for touch shots and slower play is amazing with this blade. Donic Waldner Dotec carbon is one of the high ratios of control and speed in a blade.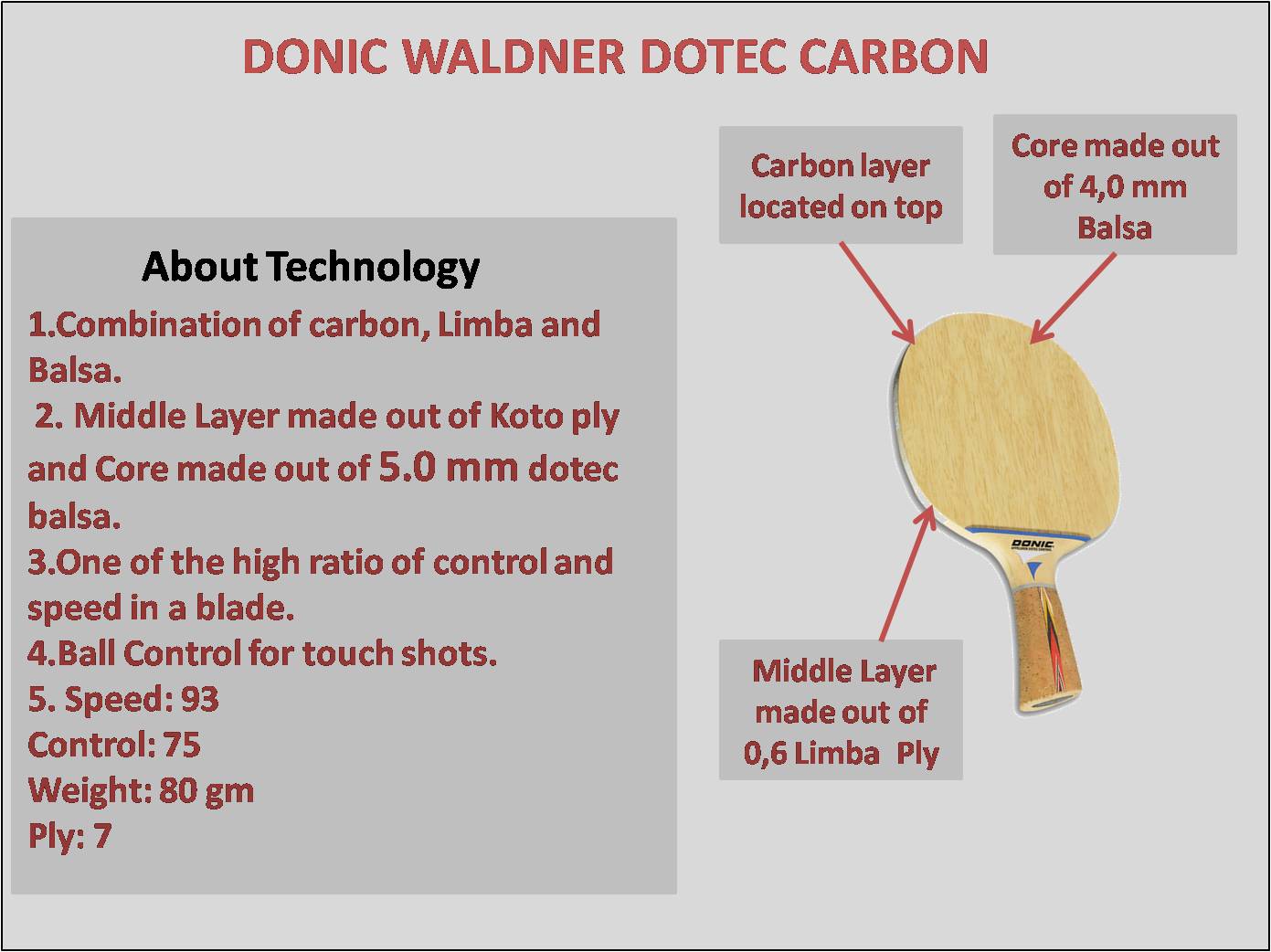 d)   Donic Appelgren Dotec Control-
In this blade the DOTEC fiber is placed between a 1+7 limba cover and 3+5 ayous center ply. The center core consists of a DOTEC balsa layer. Speed rank of 75, control is 90 and weight is 70 gm. The new dotec appelgren control blade is the last word in control and correctness. It is a very good blade for anti-spin rubbers and long pips having less friction. This blade gives better control and has more feel than the waldner dotec AR table tennis blade. It is perfect for the player who needs more ball control without losing the speed necessary for attacking and the handle helps to develop good looping strokes.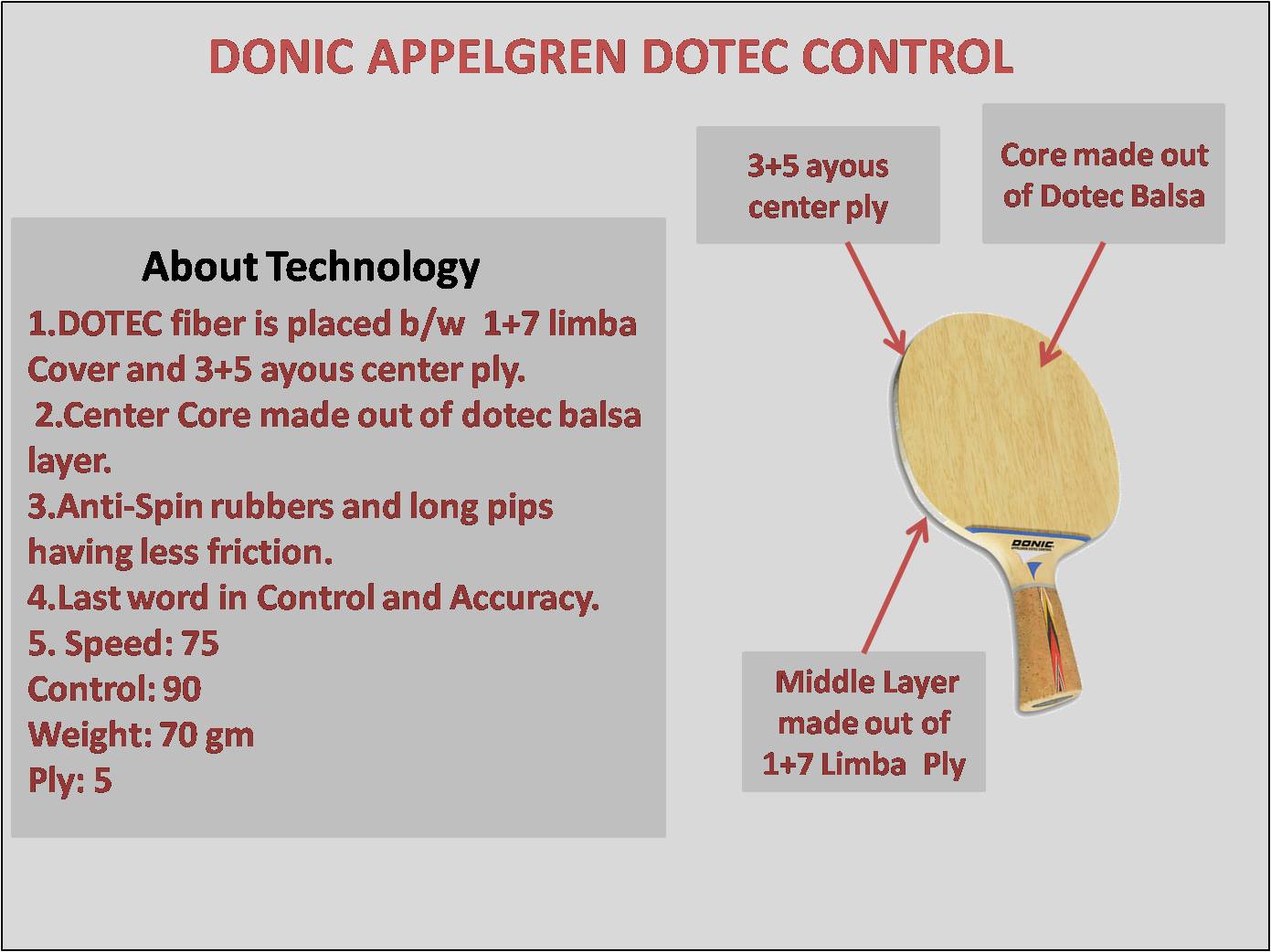 e)   Donic Wang Xi Dotec Control Plus-
This is the first time that the established DOTEC Technology has used a 3.5 mm DOTEC Kiri middle ply. The combination of Kiri with 0.6 mm thick Limba exterior and the 0.6 mm thick Ayous inner plies give the blade the required rigidity for controlled counter-offensive. Speed rank of 70,control is 95 and the weight is 80 gm. Wang Xi Dotec Control plus is wonderful qualities of the Dotec series with a very light weight handle plus now available with a straight handle and superior control. Wang Xi, one of the world's best protectors, demands first and leading that his blade gives him excellent touch and exact ball placement. These requirements are satisfied one hundred percent by the brand new DONIC Wang Xi DOTEC Control Plus blade.
f)    Donic Ovtcharov Dotec off-
Ovtcharov Dotec Off is the offensive version for advanced offensive players. For the first time the wood Ovtcharov Dotec off will feature the all new CBF Technology. The plies has carefully glued and put together with top quality plies to make sure extremely good feel and exact return of the ball. Ovtcharov dotec off is the fastest in this series. It is really fast and excellent control. This blade has incredible control but is still quite fast. The speed rank of 90, control is 71 and weight is 82 gm.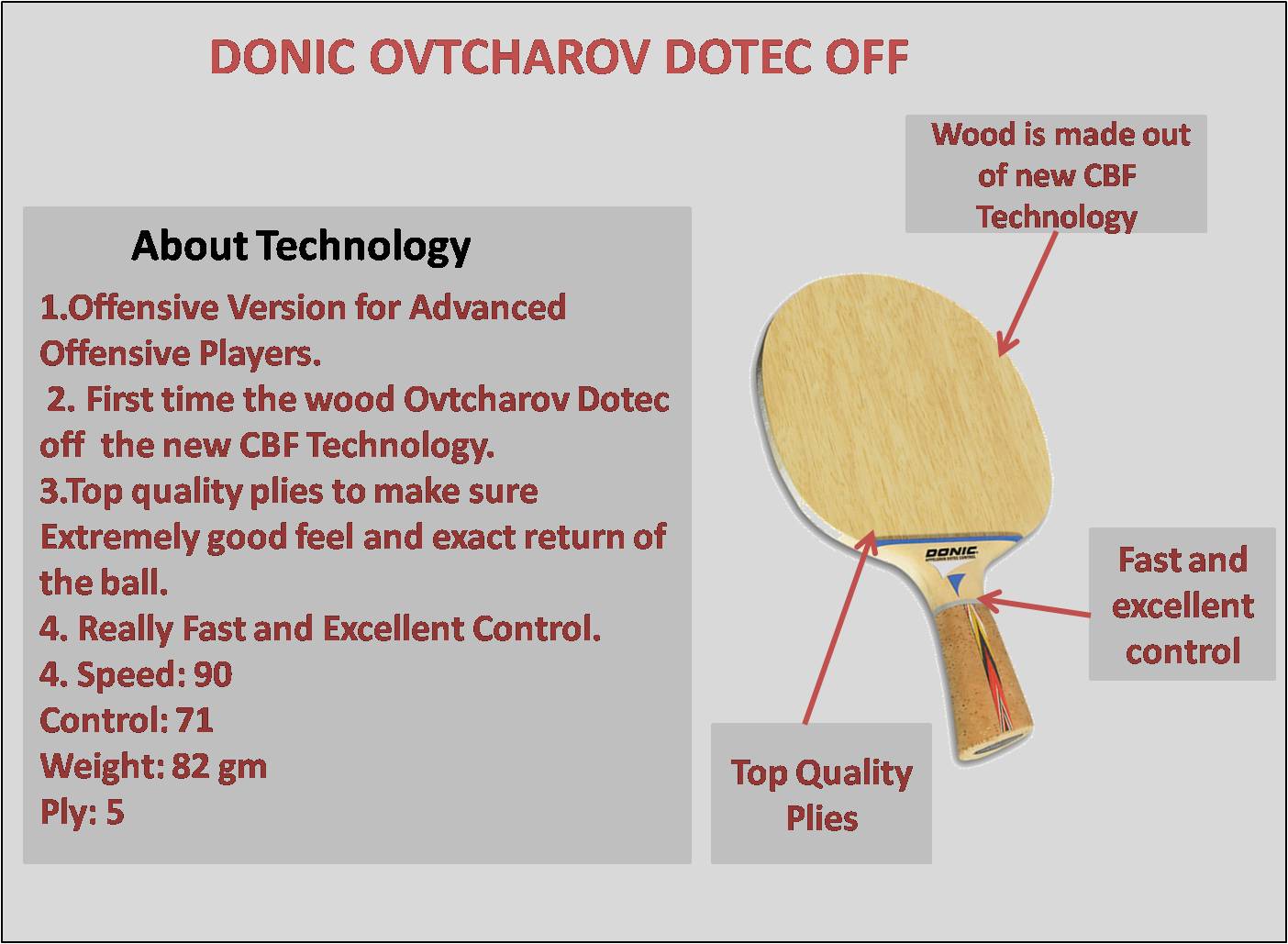 g)    Donic Ovtcharov Dotec All+  -
Ovtcharov Dotec ALL plus is equipped with material which gives less power on stoke. While this type of blade gives better control but at the same time it offers fast racket handling. Due to its less pressure and power, this type of blade is suitable for those players who really want all-round kind of Table Tennis performance. Further, Donic Ovtcharov Dotec All+ with advance material gives superb control on racket which helps in delivering better shots. The speed rank of 80, control is 83 and weight is 80 gm.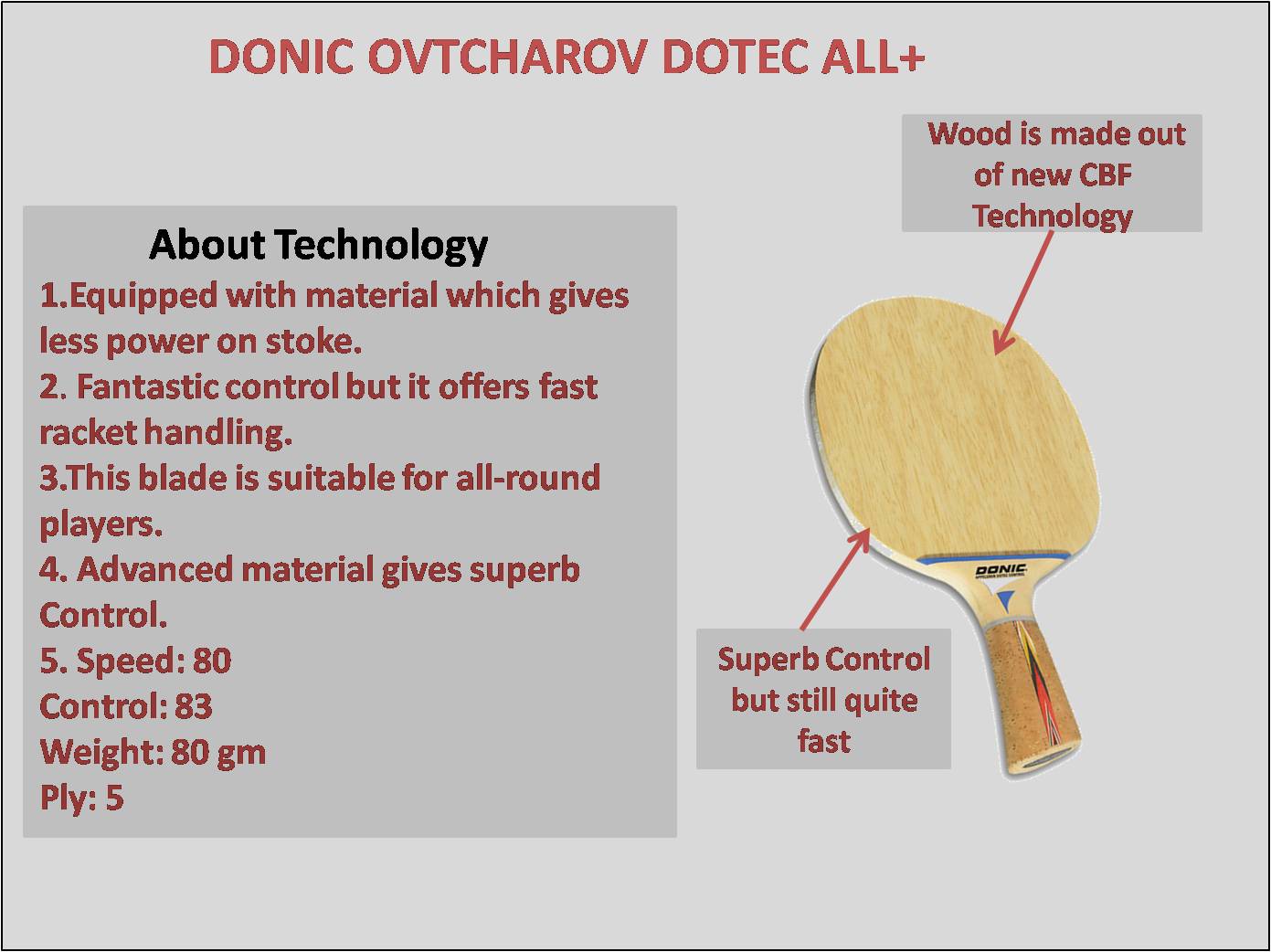 h)   Donic Ovtcharov DOTEC ALL -
 Ovtcharov DOTEC ALL is the convenient table tennis racket to control from Ovtcharov DOTEC series. It gives better control and good feel guarantee the most excellent all-round qualities. Especially this blade is suitable for all-round players with more comfortable, great blade, lightweight and easy to use. The speed rank of 78, control is 75 and weight is 80 gm.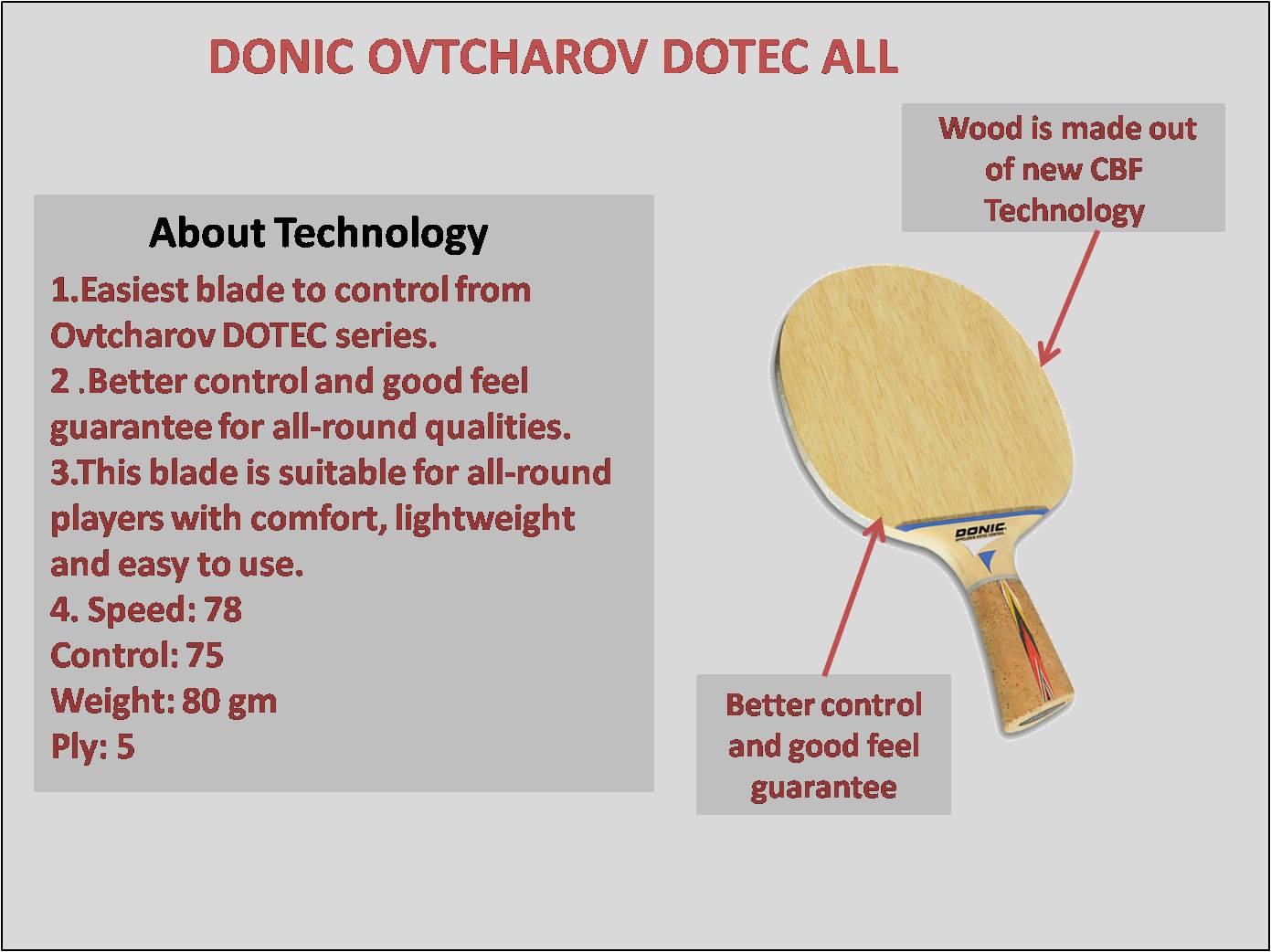 Check out the Full Range of Donic Table Tennis  Rackets at Khelmart .com