About Yonex Nanoray 900-
Yonex developed new and innovative racket technology named as Nanoray 900 of racket frame which gives a better swing speed and helps in quick shot placement.Yonex Nanoray 900 racket is a completely new frame that suppresses the angle of the shuttlecock for a totally new angle to your smash shots. YONEX Nanoray 900 frame is made up of H.T.Graphite, H.M.Graphite and Nanometric, Super HMG which is very stiff in nature. NR 900 racket is available in 3U weight (88 gm) with G4 and G5 grip size and 2U weight (93 gm) with G4 and G5 Grip size. This racket is available in Iron Gray color With H.M.Graphite, X-Fullerene,Ultra PEFshaft. It is made in japan racket.This racket is designed to give more repulsion and fast racket swing. The newest Yonex Badminton Racket has changed the stroke speed and playing style.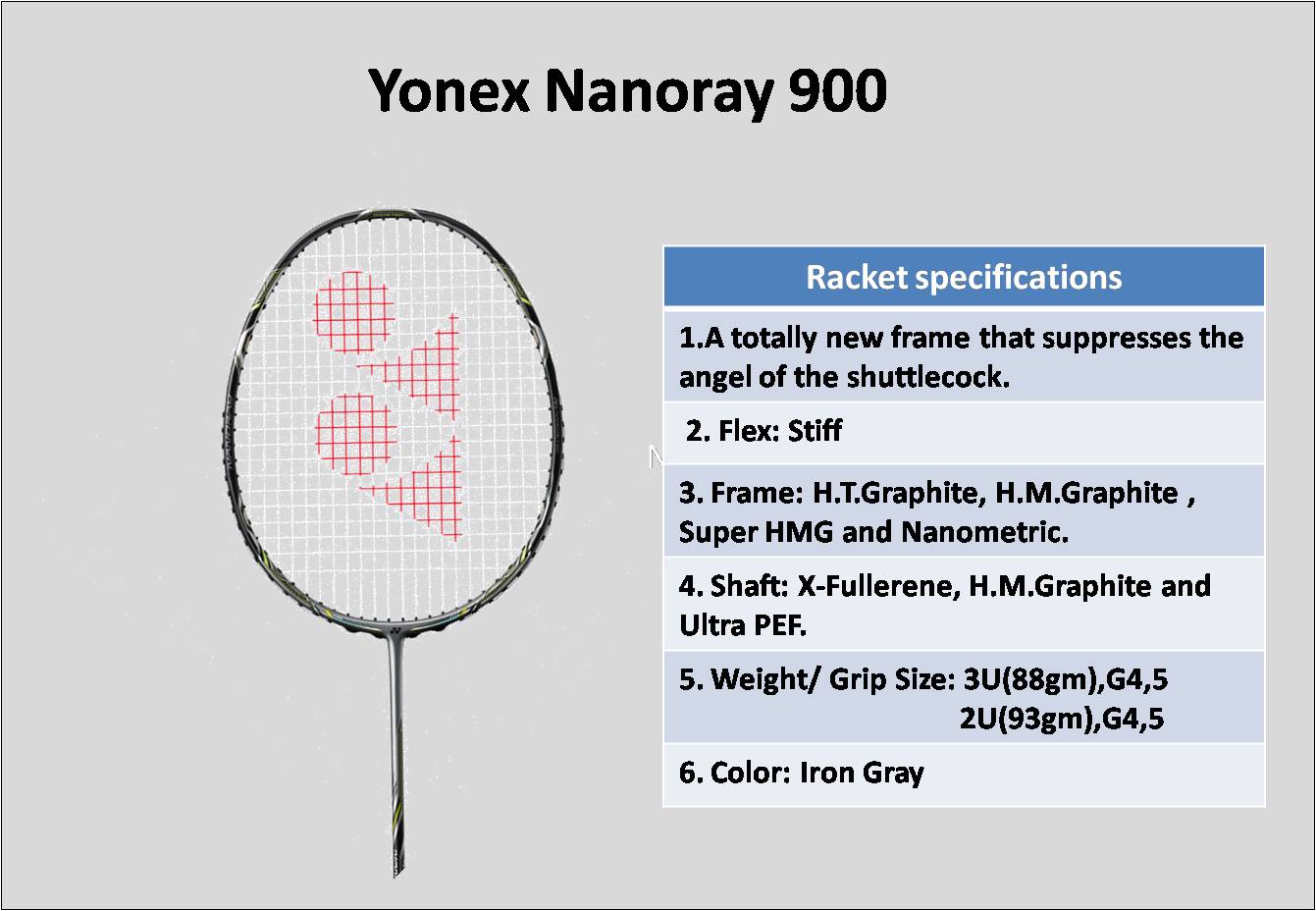 What's New in Yonex Nanoray 900?
YONEX Nanoray 900 is head light badminton racket by YONEX, It is latest head light badminton racket from Yonex Series which will provide you fast and more controlled swing with better repulsion with the help of new Aero frame.Yonex Nanoray 900 is designed for players who force their opponents into the back of the court with great speed and powerful smashes. The top side of the frame is kept as thinner which give less air resistance results into greater head speed, while bottom side of the head kept the thicker which generates maximum repulsion through greater frame stiffness. This latest development delivers extremely fast handling and high repulsion enabling lightning quick movement for high speed rallies. Yonex Nanoray 900 gives you more power and speedy racket handling. It easily maintained giving the racket a beautiful balance and completely unique feel.
Technology behind Yonex Nanoray 900–
1)   Creating a new way to smash Technology-
The evolution of the YONEX NANORAY 900 means shot speed and playing style has changed dynamatically.Yonex developed a new frame shape that motivates delivering quicker, steeper-angled smash by overwhelming opponents. Nanoray 900 is also necessary advance of the production that suppress the direction of the shuttlecock immediately after contact rather than sending it in an upwards direction. Cutting-edge NANOSCIENCE material is used for the NANOMETRIC frame and it allows to flex during the swing and to hold the shuttlecock at point of contact. Yonex Nanoray 900 is a totally new type of frame that used stress manufacture techniques to keep the upper and lower part of the frame really stiff while the middle area are flexible for downward control of the shuttlecock. With the help this type of racket, badminton player can winning the match in greater repulsion power and speed within the NANORAY range. This racket is dedicated to aggressive badminton players with all round performance.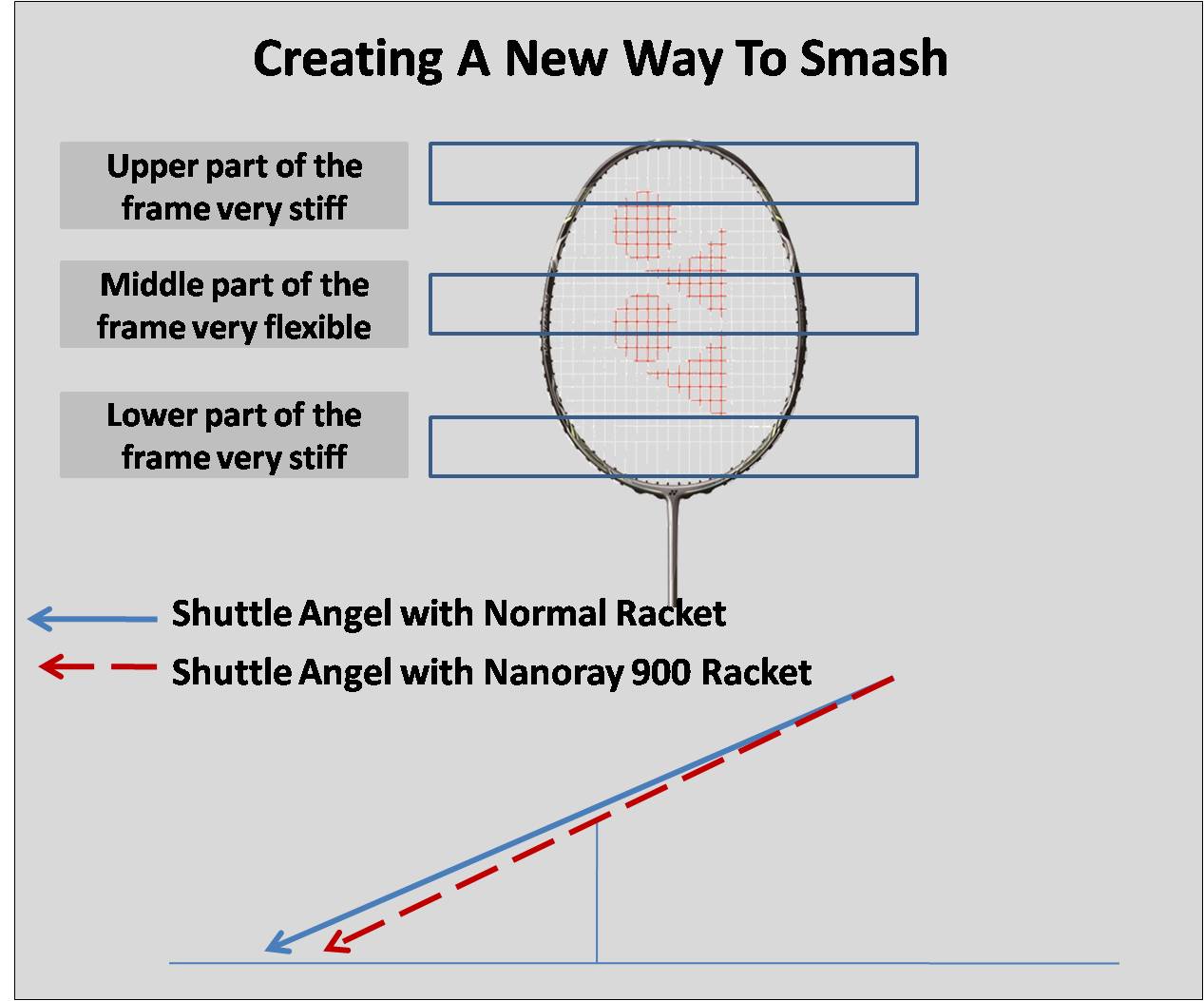 2)    Equipping you for the drop cut smash Technology-
Yonex Nanoray 900 will surprise your opponent with the cross court smashes and drop shots closed to the net. The new and innovative the top part of the frame increases the sweet spot to increase the spin and the shuttlecock making it drops closer to the net and away from your opponent. Nanoray 900 is unpredictable racket and offering a dominate source of points while the drop cut smash gives you winning edge. It gives you more power and speedy racket handling.
 3)   Nanometric Technology-
NANOMETRIC technology is develop the bond power between the carbon fibers and allows taking racket shaft manufactured to another level. YONEX has developed the new material technology which reduces the carbon amount in shaft which gives the 60% thinner racket shaft as compare to a conventional racquet however shaft stiffness remains unchanged, YONEX has created an innovative lightweight racket with lightening head speed, control and explosive power in badminton smashes.  In order to get better head speed and control, YONEX has developed New and innovative material technology known as NANOALLOY. Overall with these changes in racket frame, badminton player will get better power on smashes.
Final Summary:
NANORAY 900 is head light racket which gives improved racket swing while its stiff shaft is designed to deliver maximum repulsion. With the combination of fast racket swing and quick repulsion, badminton player can effectively return the shuttle into opponent badminton court and eventually win the point. Nr 900 is specially designed to those players who want to dominate in the game by adopting the very fast racket swing speed.
Check Out the Full Range of YONEX Badminton Rackets at Khelmart.com
Cutting Edge Yonex Nanoray 900 Badminton Racket

,