Leather Cricket Ball is an important part of Cricket Game. A perfect shape and quality Cricket ball gives real pleasure of cricket game as player can effectively utilize bowling and batting skills with a perfect shaped cricket ball. In this blog we will explain the detail procedure of a cricket Ball Manufacturing. In India, Cricket Ball Manufacturing  is treated as Small Scale Industries and its required lots of skilled job to produce as perfect shape cricket ball. The main parts of a leather cricket ball are Cut Piece leather, Cork Ball (Placed inside the cricket ball), stitching thread.
Following are the main steps of a leather cricket ball manufacturing.
Step 01 & 2 Leather seasoning and Cut to length Operation:
Typically, leather piece are used to manufacture the cricket ball. Manufacturing of Leather Cricket Ball includes Purification of Leather. After the purification, leather is dyed with red or white color. Once dying is over further leather sheet is cut into four pieces. In a four piece leather ball, leather sheet is optimally cut into four leather parts while in two piece its cut into two parts.
Here are the sub steps of Leather sheet seasoning and cutting into length:
1. Purification of leather
2. Dying the leather
3. Cutting of leather sheet into pieces
Step03 Stitching of Leather Pieces:
Once the cutting of leather pieces takes place further stitching of leather pieces come into picture. With the help of stitching tools, operator takes two piece of leather and joins them with thick thread. This stitching is rough in nature but strong in strength .After the stitching, two half piece of leather is ready for ball assembly.
Step04 Assembly of Leather Pieces and Cork Ball: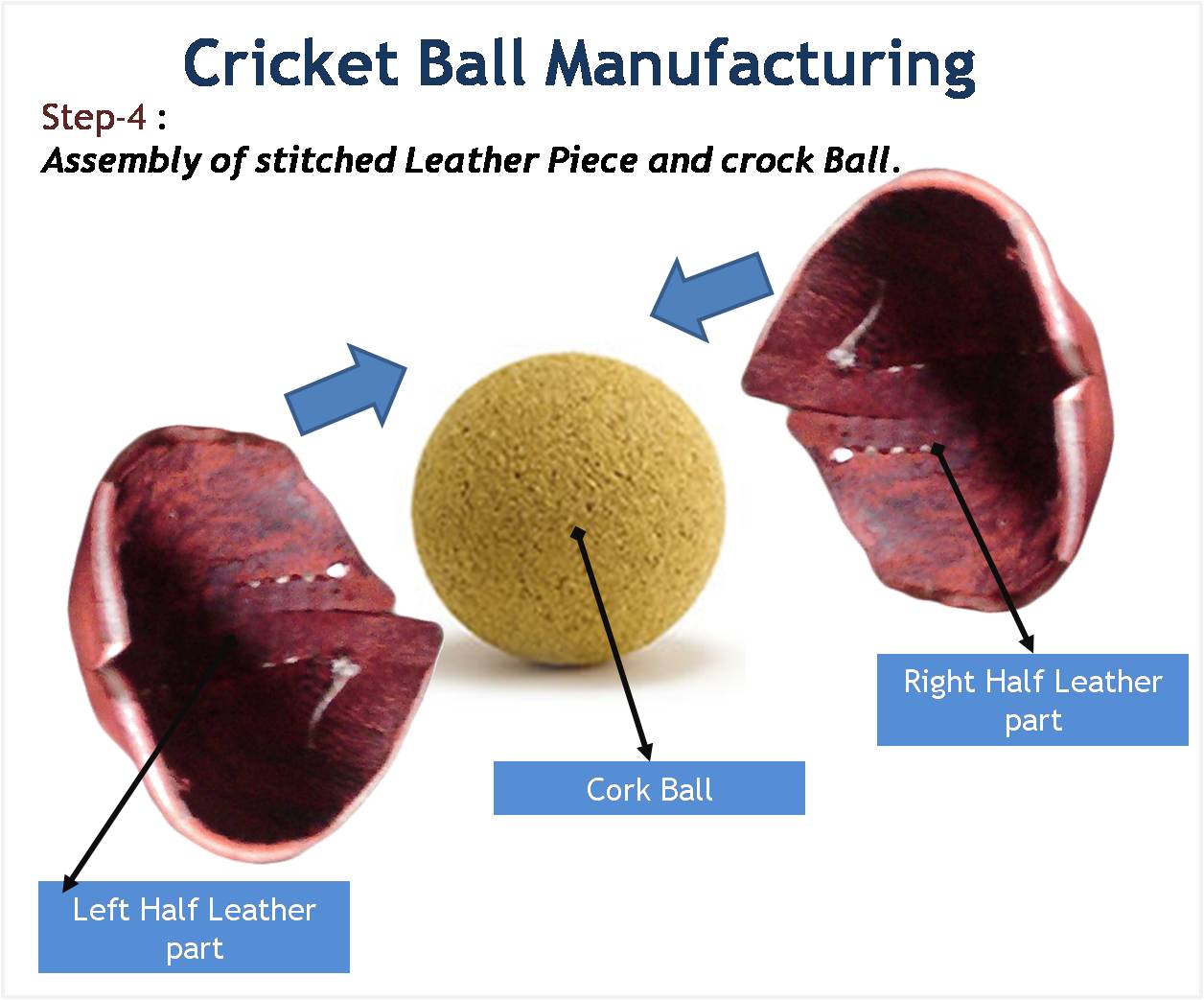 It is a manual Assembly process in which two stitches leather pieces and cork ball assembles together. With the help of manual tools operator hold the leather pieces and cork ball. This assembly further goes into ball stitching fixture in which final stitching takes place.
Step05 Final Stitching : Assembly Ball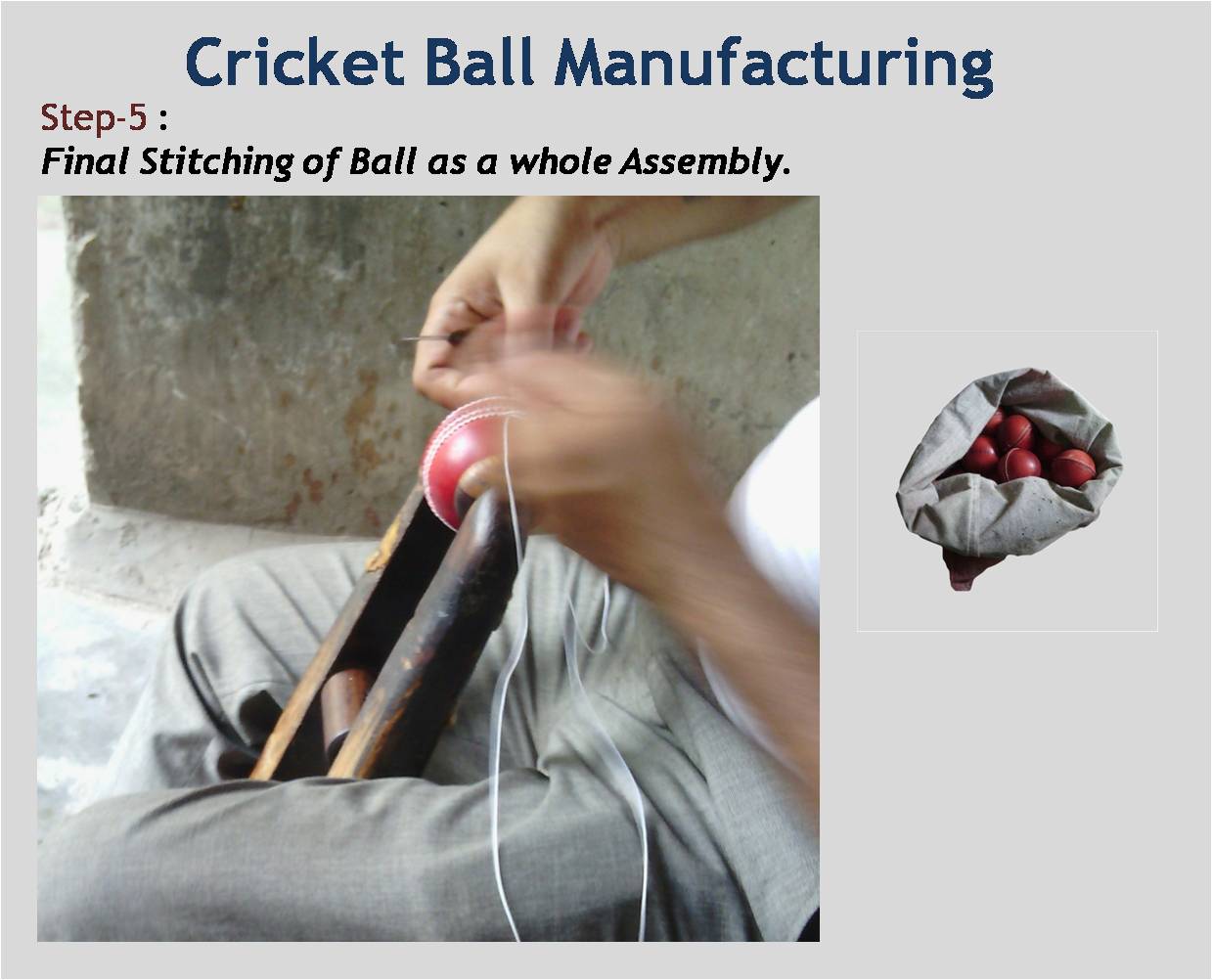 Refer image (Image-5), in this image operator is stitching the ball assembly in order to get the pre pressing ball shape. This is a final stitching of ball in which very skilled operator perform the stitching operation with the help of manual stitching tools. In a perfect shape ball, operator gives 63 to 64 nice looking threads which hold the ball assembly perfectly in order to give long lasting cricketing performance.
Step05 Ball Assembly Pressing, polishing and trade mark stamping: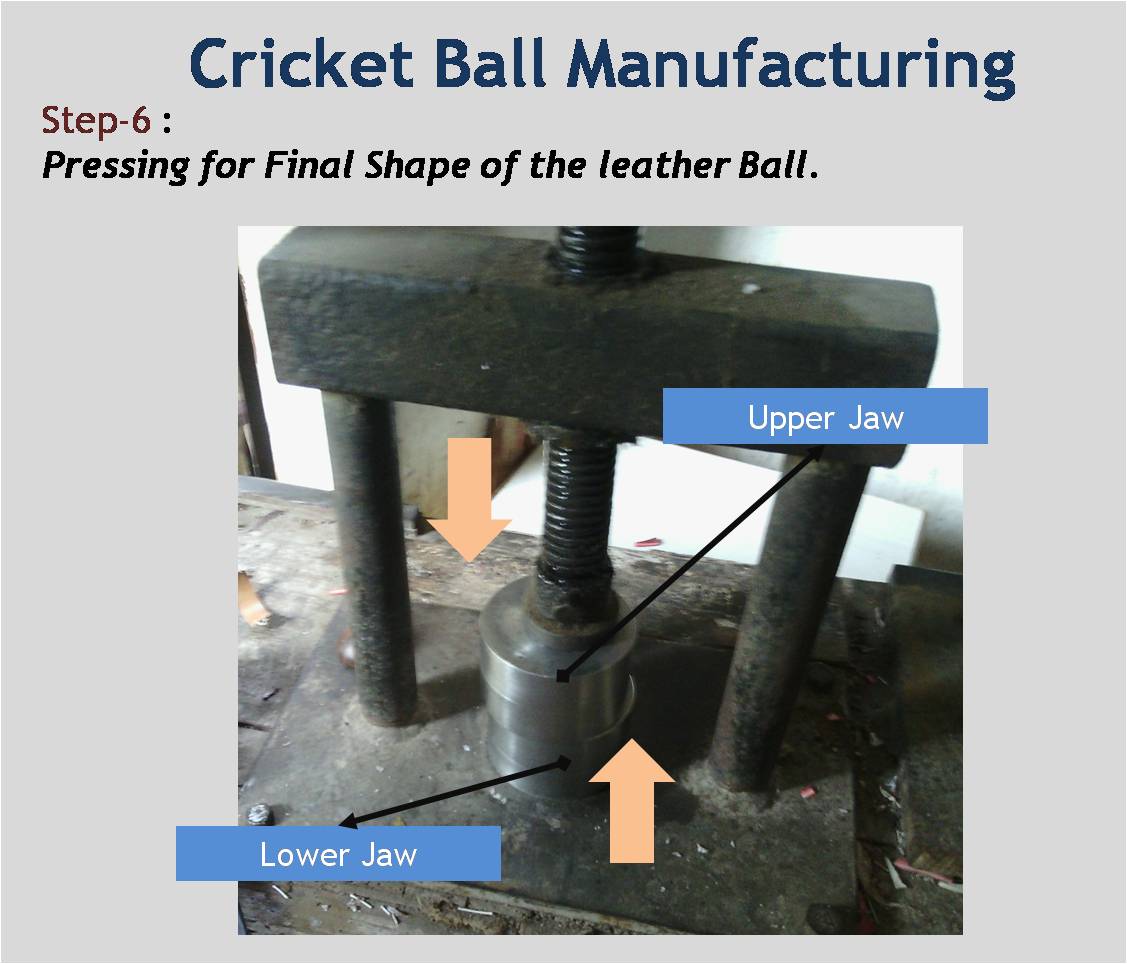 This is a final step in which stitches leather cricket ball assembly put  into a press machine in which manual press is applied to get the perfect round shape of ball. The tool which is used in this operation is hand machine tools which consist of upper and lower jaw with two half piece steel parts. Ball is place in between two jaws and operator applied the pressure on ball to get the perfect shape.
Once pressing is done further, polishing operation takes place to get the shining in ball. Remember, shining of ball inures the swinging of ball.
Finally manufactures place the trade mark on balls, pack them and now balls are ready to go in cricket ground.
Cricket Players can get the perfect shape cricket ball at khelmart.com
Guide on "How a Cricket Ball is manufactured"

,