Realize the Benefits of jogging:
Jogging is referred as most effective fitness activity because of its quick benefits. Jogging gives multi dimensional health benefits starting from enriching the body muscles to effective cardiovascular fitness. While jogging gives healthy cardiovascular system it also burn lots of extra calories and maintain the body weight .
Now when we have count on benefits of jogging so let us start practicing it.
Ideally for jogging, you don't need lots of preparation or don't need to learn it , in fact few common guidelines will make your jogging very effective ,
Here are some tips: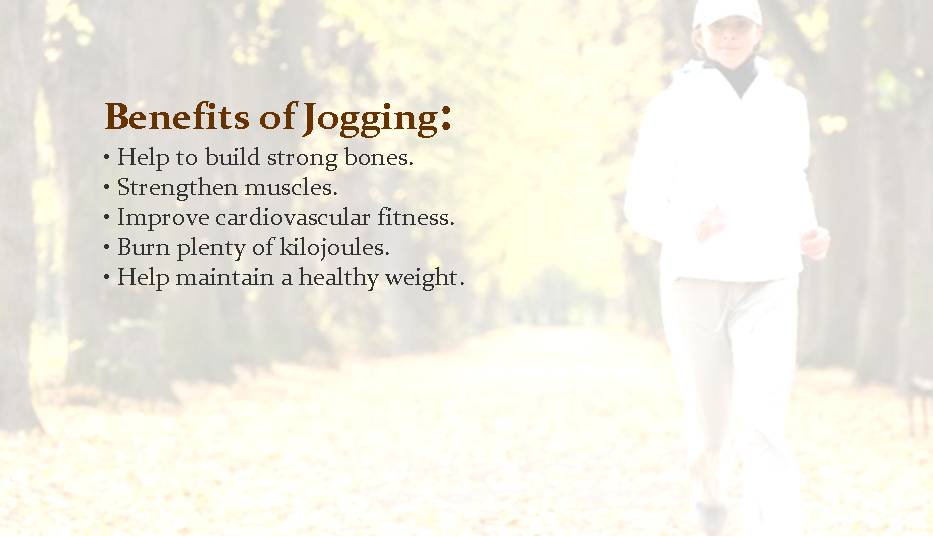 1.0 Believe and motivate yourself for better results:
For any fitness related activity, consistency is the key of success. For consistency you need motivation and for motivation a strong will power is required. How to develop the willpower ? This question needs to be asked by individuals. We love to stay fit , We love a healthy living so willpower should comes from individuals inner soul keeping in mind the end result from jogging. If you are able to visualize the end results of jogging and correlate the same with effectiveness to handle the day to day activity then you'll get better willpower which will result into motivation and eventual you'll get the consistence in your workout.
So game is very simple , try to visualize the end results of jogging.
2.0 Proper Warm Up:
To start the jogging you need to first make your body warm up. Take slow walk for 5-7 min and allow a gradual increment in heart rate. This will avoid extra stress on body and maintain proper body temperature and heart rate. Walk Slowly and gradually increase the speed. Once you insures the proper warm up then you can start the jogging on normal pace.
3.0 Proper Shoes:
Proper
jogging shoes
selection is very important for jogging. We need to understand the fact of impact load transfer during jogging and the first contact of impact to our body is shoes. Shoe should have shock absorbing ability and it should protect yourself from sudden impacts. Nowadays lots of shoes are coming power cushion ability wherein extra material is being provided at shoe sole to get more cushioning action.
4.0 Body Position during Jogging:
Very critical and important part of jogging is upper body position. Upper body should be straight or slightly lean , try to keep your hand at waist level and your hand angle should be at 90 degree. Contact of foot and ground should be midfoot contact. Head Position should be up and back straight.
5. Keep in Mind "Slow and Steady Wins the Race":
Don't expect to much without putting efforts. Jogging is very effective but for that you need to put consistence effort. Try to learn from your mistakes and put your best efforts. Don't miss your jogging schedule. Many new joggers are very excited on first day and do excessive jogging which eventual results into serious enquires. So maintain the enthusiasm for long time and give sufficient time to your body to react.
Joggers should increase the mileage very gradually . Ideally it should be 5-6 % week by week.
Along with these basic tips , joggers should always keep in mind the end results of jogging . The end result of jogging should be "to stay fit" and "live healthy life".
So tight your shoelace, make a jogging schedule  and go for it.