In this blog, we shall explain the Top Selling Cricket shoes & Cricket Spikes in Year 2014. Cricket shoes are basically categorized into 3 categories.
a)        Starting Cricket Shoes
b)        Mid Range Cricket Shoes
c)        Higher End Cricket Shoes
We are listing the top selling cricket shoes irrespective of Price range and shoe type. While Nike, Adidas captured majority of market share in cricket shoes but at the same time shoes from other brands like SG , SS , Kookabura , Puma , ProAce and Nivia are emerging as best users choice. In Full Spike Shoe, Adidas is dominating with its superb design concept and durable spike and sole. In rubber studs, Brands like SG, Puma and Kookabura are playing key role.
Here is the list of top selling cricket shoes in Year 2014:
Adidas 22 Yard Shoes:
Adidas 22 Yard is made from top quality material with Adidas patented technology. 22 Yard is fitted with adiTUFF which is basically as abrasion resistance technology and gives long lasting shoe sole. Cushioning is very important in shoe as it can protect you feet against injuries and sudden impacts. AdiPRENE- lined insole is designed to provide you better cushioning and propulsion. Pro Moderato is placed in shoe to give you better stability.
Overall Adidas 22 Yard shoe is best choice of intermediate/Advance Cricket Player.
Nike Potential Shoes:
Nike Potential Cricket Shoes is made from Synthetic material with Lace-Up Closure Type configuration. Weight of single sole is around 330 gms which gives a light weight shoe feeling. With durable rubber studs , Nike Potential will give you best shoe performance with durability.
Its look consist of white color based with red and black color sole design on which Nike logo is giving all together is different look and feel.
Inner mesh support with extra cushioning will give cricket player a soft feeling during fast running. Its ergonomically shape is designed to give best is class shoe feeling.
SG Prolite III Shoe: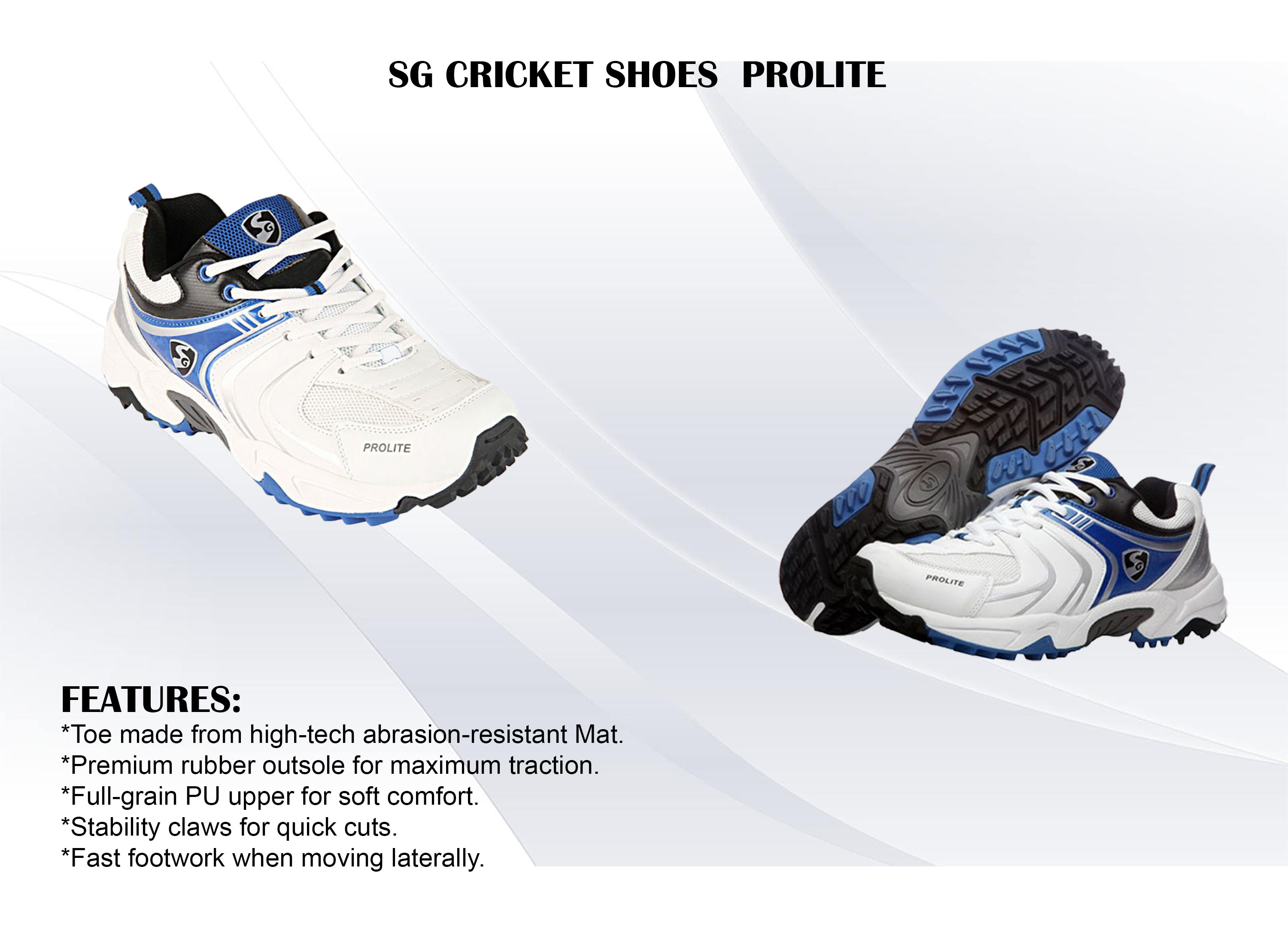 SG Polite III is new design shoe from SG cricket which is made from high quality rubber sole. Its sole is designed in such a way which gives best in class shoe grip and traction force for adverse running conditions. In cricket game, speed is very important. If you are a fielder then you need to run with maximum speed to chase the cricket ball in order to stop the boundaries. More traction force helps in better running in cricket ground. SG Polite III new and latest design gives style look to cricket players. Its Red and White cx`olor combination will give a perfect look on white cricket uniform. It's an economical price range shoe suitable for intermediate cricket players.
SS Elite Shoes: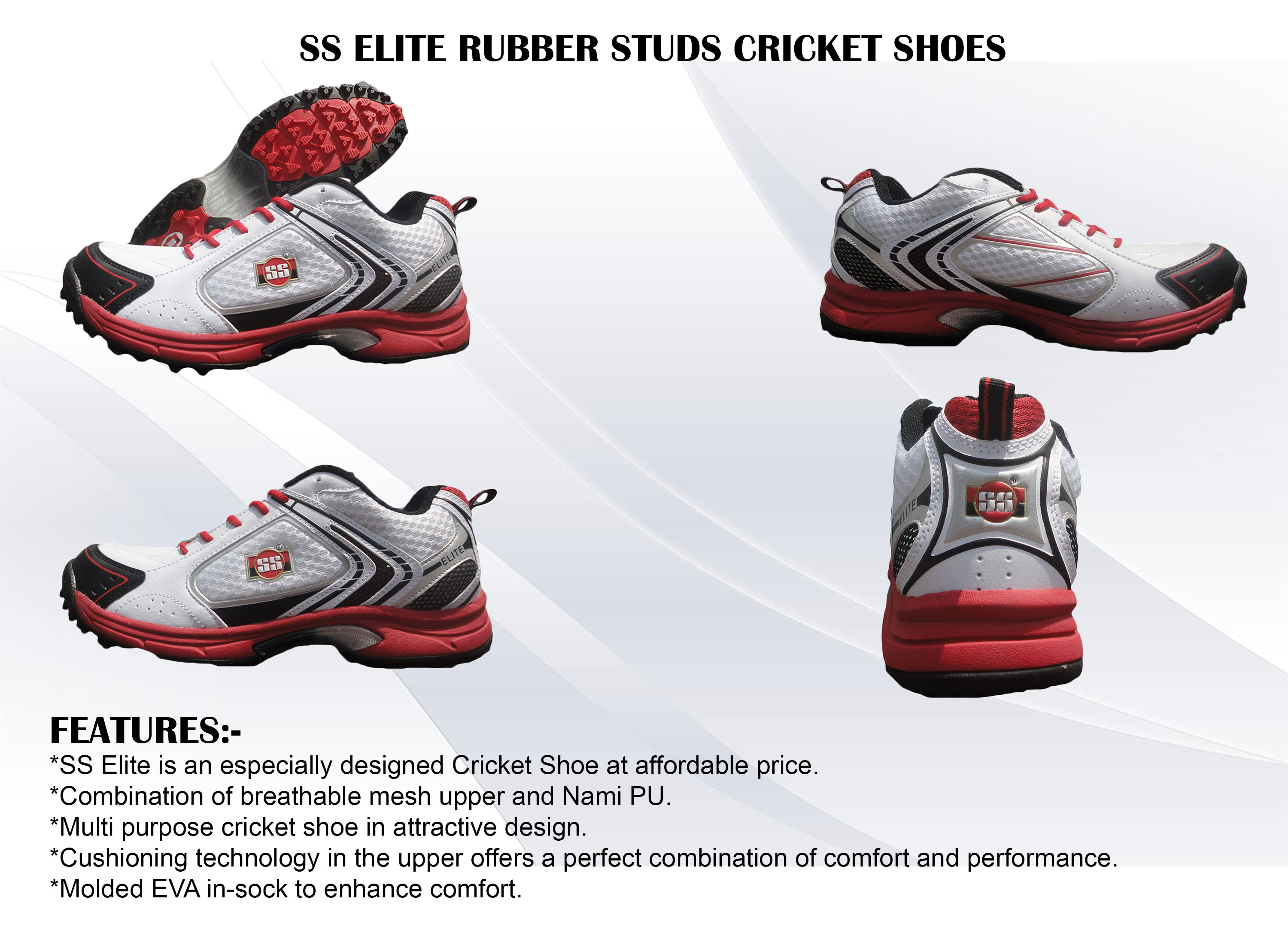 SS Elite Cricket Shoe is made for beginner/ Intermediate cricket players. Its upper is made of high quality mesh and PU which gives good shoe surface for better ventilation. It is multipurpose shoe which will provide you all-rounder performance. Shoes are available with molded EVA  shoe sole to enhance comfort. Shoes have premium rubber out-sole for maximum traction. SS Elite shoes are available in sizes for boys and men.
Puma Lithium Rubber Stud Cricket Shoes: Puma lithium rubber shoes are perfect for professional players. The white and blue shoes made of quality leather which increases the performance and durability of the shoes. Shoes have light weighted rubber sole which provide comfort and bounce. Puma lithium rubber stud cricket shoes have special rubber toe reinforcement. The shoes come with abrasion resistant synthetic leather and breathable mesh rubber.
  Check out the Full Range of Cricket Shoes at Khelmart.com , Visit Complete Guide on Cricket Shoes