Virat Kohli Batting Style:
Checkout the detail blog on Virat Kohli Playing style 
Virat Kholi is world finest cricket player for all format including T20 , ODI , and test matches. His consistent performance and dedication is admired by lots of young cricket players in India. Moreover , his unique playing style provide him strength to take challenge outside the Indian sub continents cricket matches.
Following are some key highlights of Virat Kohli Batting Style:
Perfect Attack Angle: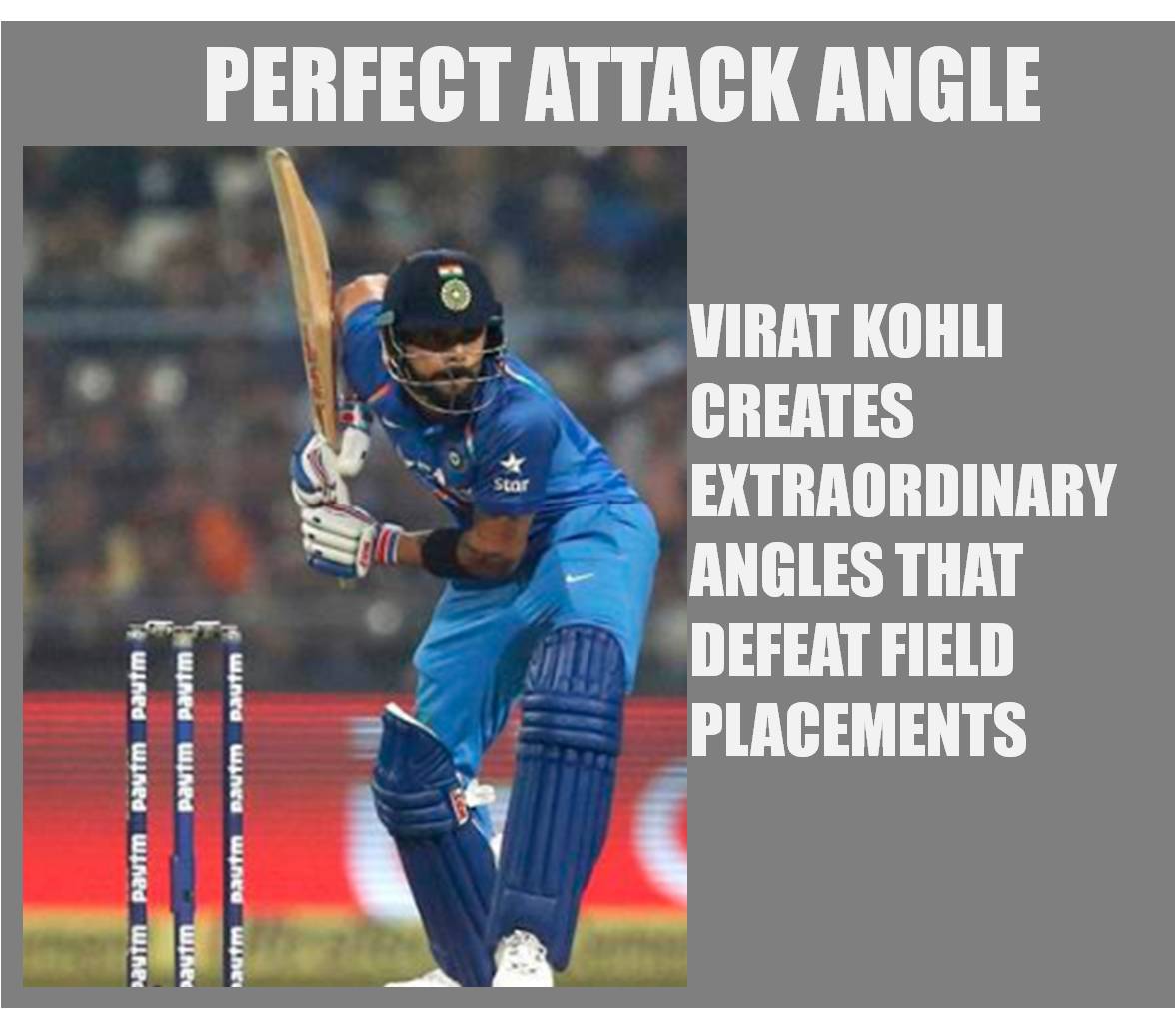 Virat Kohli creates perfect angle of attack by which he gets the gap between the fielders to get the boundaries. To put the power on strokes, he used the power of wrist and fast swing speed of the cricket bat .
Yes, obviously, the cricket bat balance is very important to get the perfect bat swing speed.
Fast Cricket Bat Swing speed: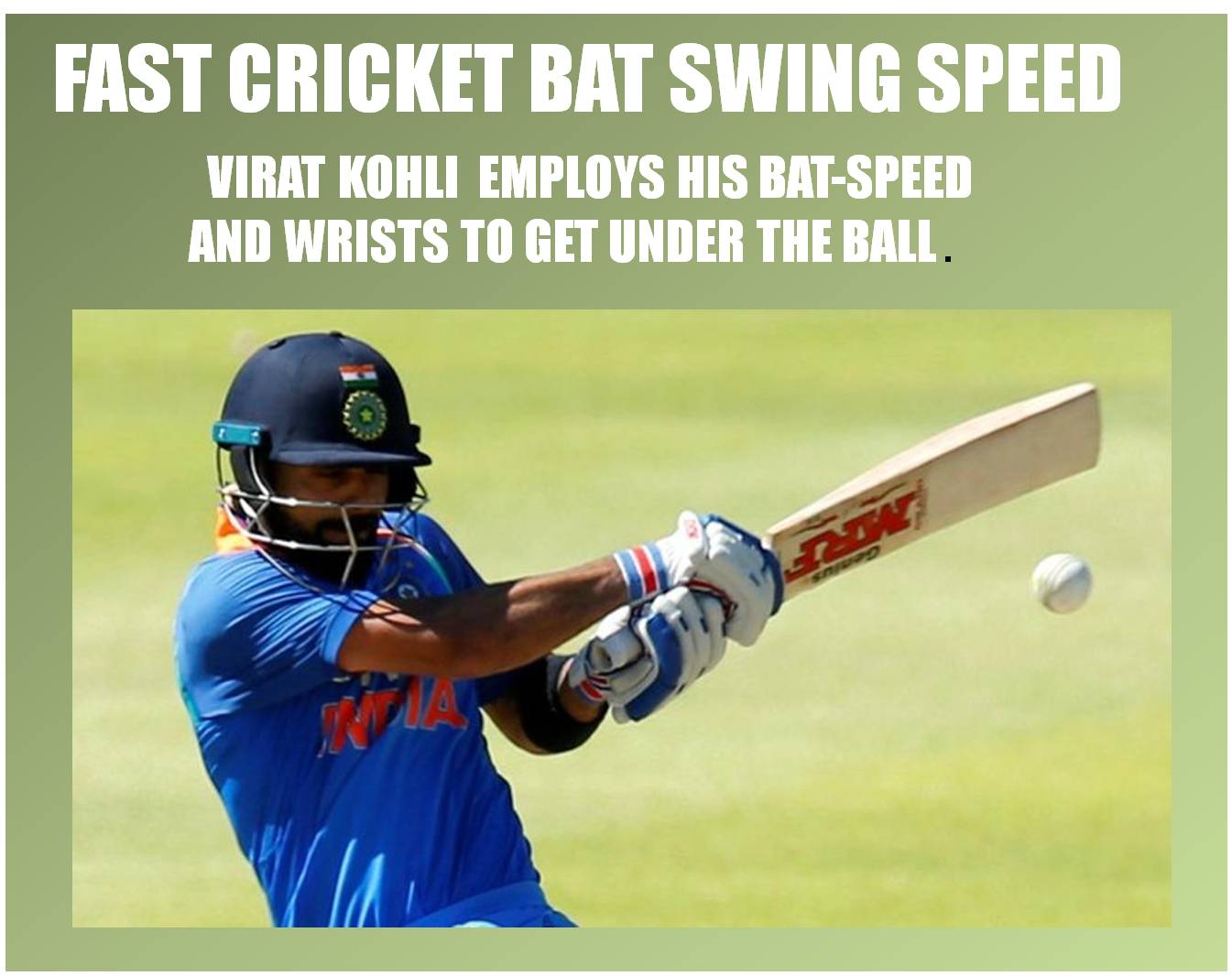 In order to put extra power on shots, Virat generate extraordinary bat swing speed. Extra power on ball helps in getting boundaries even in sluggish batting surface surfaces.
Hit the shots close to body:
He is very good on off stump so it is very difficult to catch him on body line or close to off stumps delivery. His strategy in dealing off stump delivery to play close to body so that he will get better directional control which results into defeat field placements.
Extraordinary performance for Yorker and short pitch balls:
Virat Kohli improved his batting skills to handled Yorker and short pitch deliveries which is very useful especially in T20 and ODI matches.
More over in recent time, Virat convert his weakness into strength
How Virat Kohli MRF Bat helps in improving his performance:
It is perfectly balanced:
The bat which is used by Virat Kohli is developed by MRF cricket. This bat is developed as per the playing style of Virat Kohli. Balance of this bat is very light by which he can swing it very easily with less effort. This helps in generating extra power on ball.
Perfectly designed and balance bat always helpful and adjusting the bat a last time as it provide opportunity the maneuver the bat easily.
Sweet Spot of the Virat Kohli MRF Bat is the Key:
Sweet Spot of MRF bat which is used by Virat Kohli is developed artistically. It is enlarged in nature which position mid to low to the bat.
Enlarge sweet spot helps in placing shots with more power and even if sometime ball miss the center the player will not feel l power lose.
Top Grade Willow used in making the bat:
MRF used top grade English willow to produce this bat. Willow used in this bat is selected players grade willow which is naturally air dried to get best in class performance and durability.
Top grade willow provide best grains structure and better surface for playing good shots
Handle of Virat Kohli bat is made of 12 Piece Cane Handle: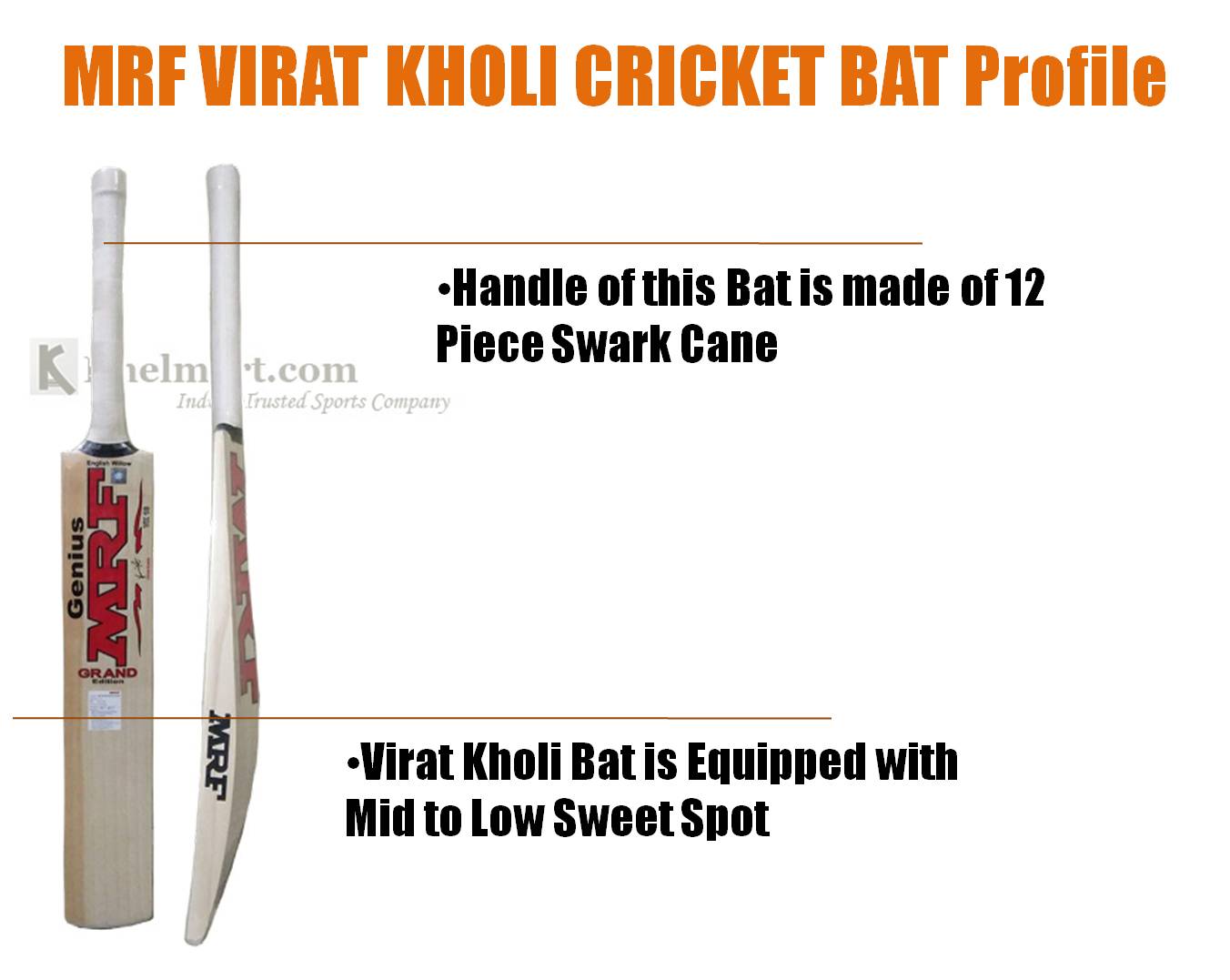 Handle of any bat is an important part of bat as it transfers the power to bat. If a bat is not flexible enough to sustain the impact caused by ball than bat damage changed will be increased.
So bat handle should be optimally flexible to transfer the maximum power to ball.
Flat Face to get better maximum power transfer to Ball:
All the MRF bats are manufactured with flat face concept in which, player will get flat surface to put maximum power to cricket ball.
Virat Kohli bat is also equipped with flat face concept in which maximum power is transferred to ball.
Conclusion:
As a conclusion we can say the, Virat kholi use unique playing style so that he can dominate on bowlers. Unique batting style required suitable bat so that bat can complement the playing style.
Virat Kholi MRF bat is a deadly combination of power, control and speed.
Checkout the Virat Kholi MRF Bat here