Srikanth Kidambi grab the attention first when he defeated legendary badminton player Lin Dan in 2014. After 2014 , Srikant never looked back and focus on improving his attacking and defensive game and as a result of same he won following championship in 2017 row:
Indonesia Super Series beating Japan's Kazumasa Sakai

Australian Super Series beating China's Chen Long 22–20, 21–16

Denmark Open defeating Lee Hyun-il of Korea 21–10, 21–5

French Super Series defeating Japan's Kenta Nishimoto 21–14, 21–13
In 2017 , he won 4 super series title which shows great improvement in his game. While Srikant , improve his game he also upgrade his badminton racket as per game need. We all know that Professional Badminton Racket are those which suits the specific need to player. By doing continuous improvement in game , Srikanth upgraded his racket time to time.
In this blog we are tying the list the badminton rackets which is used by Srikanth Kidambi.
Current Badminton Racket of Srikant Kidambi:
Srikanth's natural game is attacking and as per his game requirement Yonex voltric series is best suited for him. Currently, Srikanth is sponsored by Yonex , Japan. Srikanth is using Yonex Voltric Z Force II black color racket .  Following are the key characteristics of Z FOrce II:
Yonex used thinnest shaft in this racket. Thinesh shaft gives quick repulsion.

Yonex used Tungsten infused grommets in the racket. Which gives smooth movement of string through grommets.

Head size of the racket is smaller as compared to previous Z force model. Smaller Size head give stable and fast swing speed of head.

Z force II is more aerodynamic in nature as compared to previous model.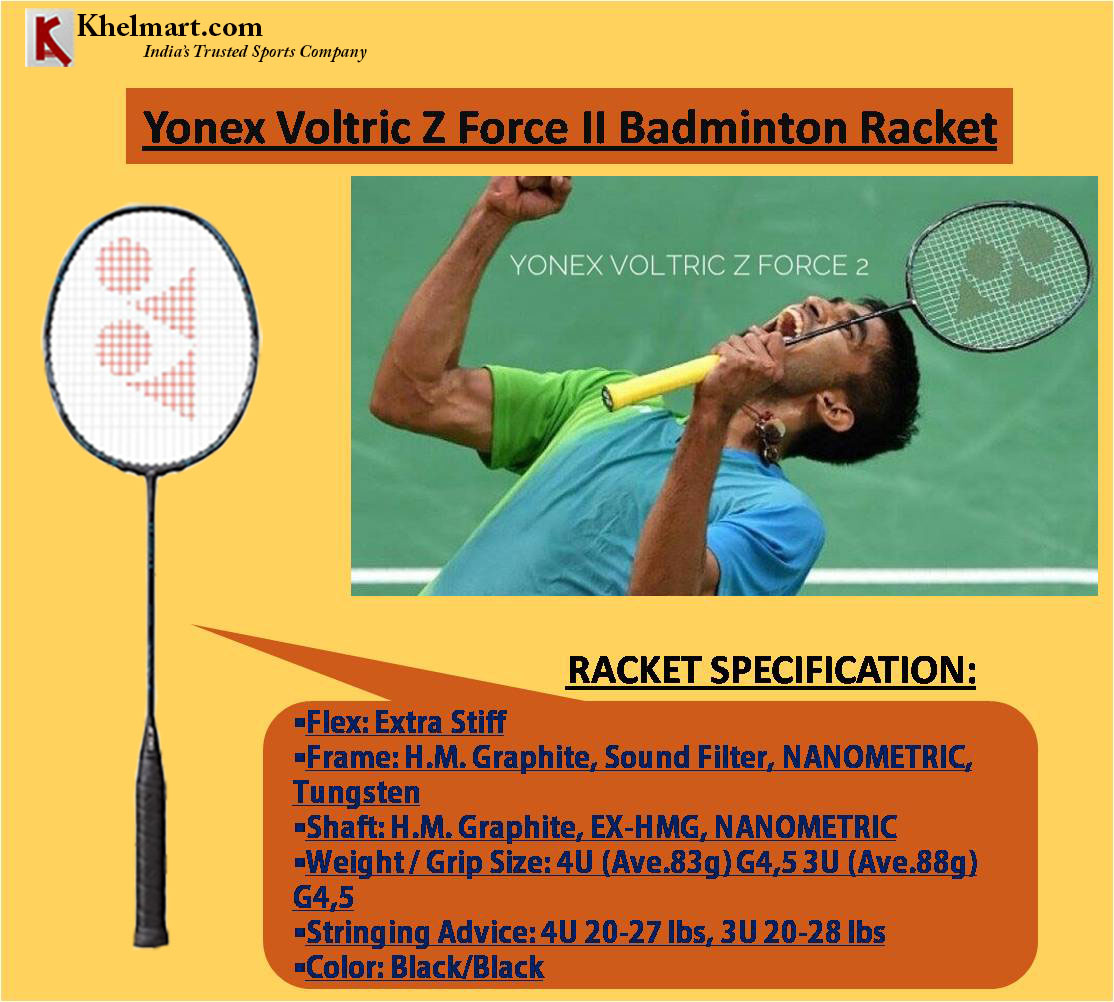 Checkout the Racket Details here:
Racket during 2014 -2015:
During 2014 to 2015 , Srikanth was associated with LI Ning China. Li Ning N 9 was a pure attacking game style racket which suites the offensive game style. During this period , Srikanth was on full attacking mode. He was known for his 3rd line killer smashes but at the same time his defense was not upto the mark. He worked on his defense and then only he came up the all new game style which was the combination of killer attack and rock solid defense. By working on his defense system , Srikanth manage to defeat the legendary player Lin Dan on his home ground.
Checkout the Racket Details here:
Racket in 2013 and Earlier:
During 2013 and his early days , Srikanth used Yonex Arcsaber 11 badminton racket. Arcsaber 11 (http://khelmart.org/yonex-badminton-rackets-new-series-arcsaber-11-and-arcsaber-fb-debut/)is the same rakcet which is used by Taufik Hidayat.
Following are the key characteristics of Arcsaber 11:
Arcsaber 11 is even balance badminton racket suitable for all round type of badminton game.

Arcsaber 11 is developed for all round type of badminton game.

Its even balance configuration helps in fast racket speed & quick racket handling.
Checkout the Racket Details here:
Check out the Yonex Badminton racket used for Professional players
Badminton Racket of Srikanth Kidambi

,