Li Ning  launched two brand new series for beginner to advance badminton players. These series are latest in Li Ning catalogue  and offer best performance to players. These brand new LI Ning Badminton rackets are equipped with latest and innovative racket technologies.
These Latest Badminton Rackets  are equipped with technologies like High tensile slim shaft, dynamic optimum frame, Ultra carbon material and many more.
Check out the Details of Li Ning US Series:
Checkout the Technologies in LI Ning Badminton Racket 
Check out the Best Badminton Rackets 2018 
Badminton player will get following key benefits from it:
These rackets are made from high grade material which offers better performance.
Hi Power series rackets are made from Graphiteand aluminum so these are developed for beginners
Super Force series is developed with ultra carbon material which delivery better performance and developed for intermediate to advance players.
Hi Power series provide better frame rigidity and optimum weight distribution.
Super force series is light weight in nature while its frame is made from High grade material which provide ability to sustain higher string tension:
In this Bog we shall explain the two different series launched by Li Ning:
LI Ning Super Force Series for Intermediate Payers: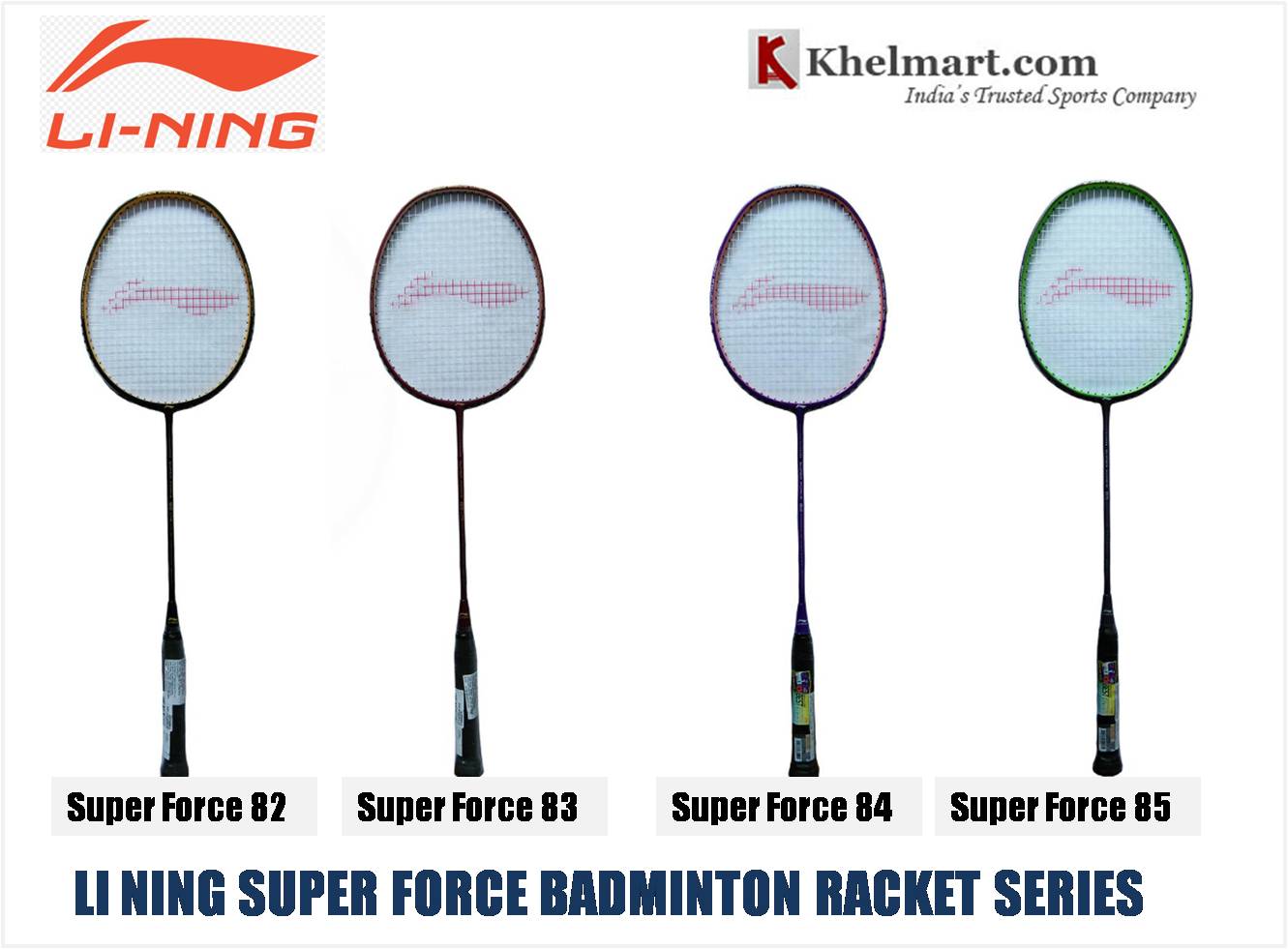 Li Ning super force series is basically developed for intermediate to advance players.
Super force series is developed on dynamic optimum frame concept in which sweet spot of racket kept little upwards as compare to normal racket. This helps in better and enlarges sweet spot. Big sweet spot always helps in powerful shots.
To improve the overall aero dynamics of the frame, Li Ning used the aero dynamic frame known as aerotec Beam system. In Aerotec beam system, cross section of frame is designed is such a way so that frame feel minimum air resistance. With minimum air resistance, overall swing speed of frame is improved which results into fast racket handling.
With fast racket handling, player can perform better drive shots and quickly response to opponent shots. We all know that in badminton game speed is the key of success.
Li Ning used high tensile slim shaft for making the super force series. In this .7 mm top slim shaft design provide better strength and flexibility to shaft. Better, durable and flexible shaft transfer the maximum power to shuttlecock.
Slim shaft also offer improved aerodynamics characteristics to players. With better aerodynamic of shaft, player can easily maneuver the racket and get added advantage.
To improve the overall racket characteristics, Li Ning used ultra carbon material in frame and shaft.
By adding ultra carbon material racket frame and shaft, racket overall performance improved significantly.
With ultra carbon, racket rigidity, torsion strength bending strength improved which results into better playing characteristics.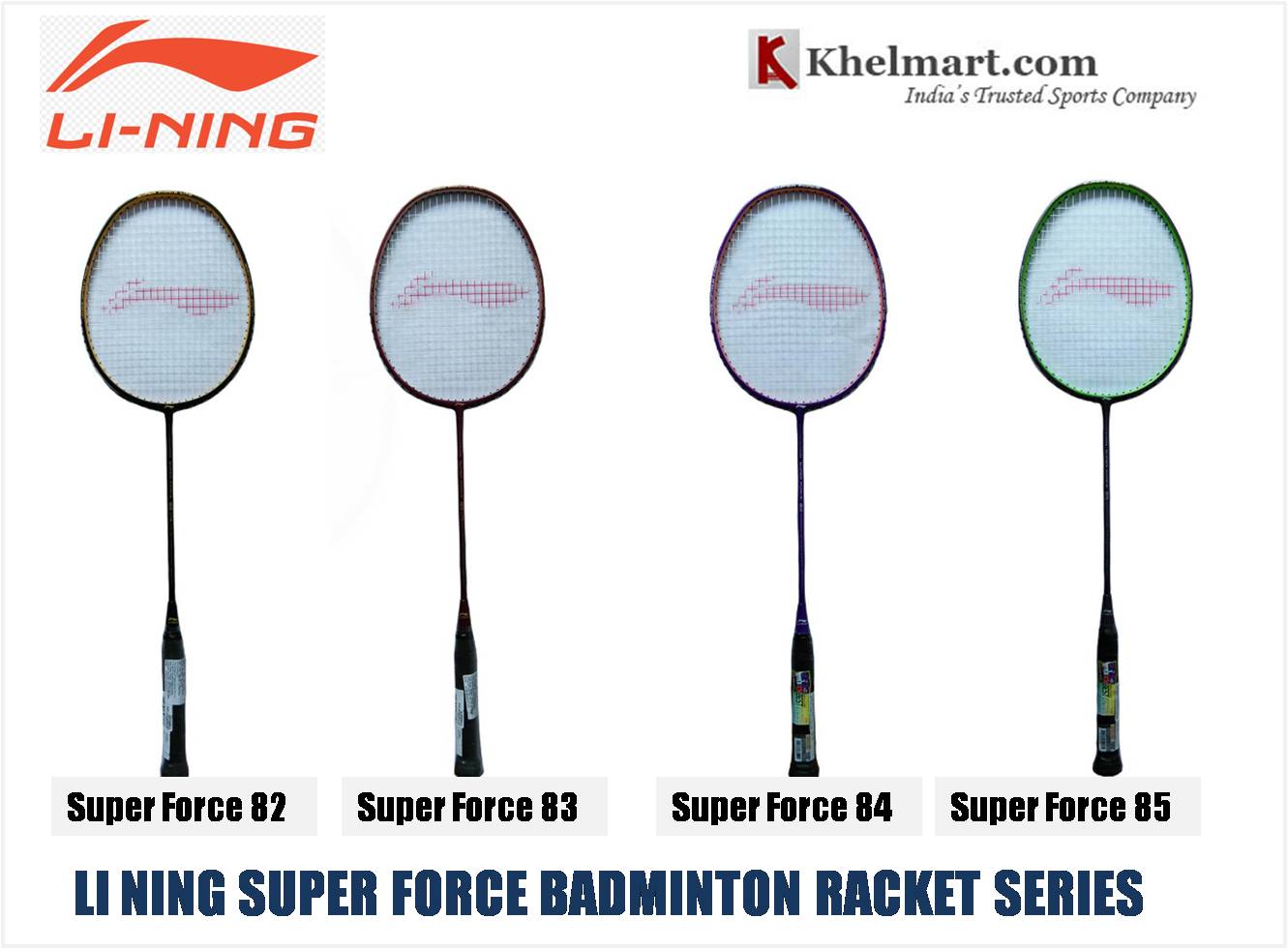 LI Ning HI Power Series for Beginners: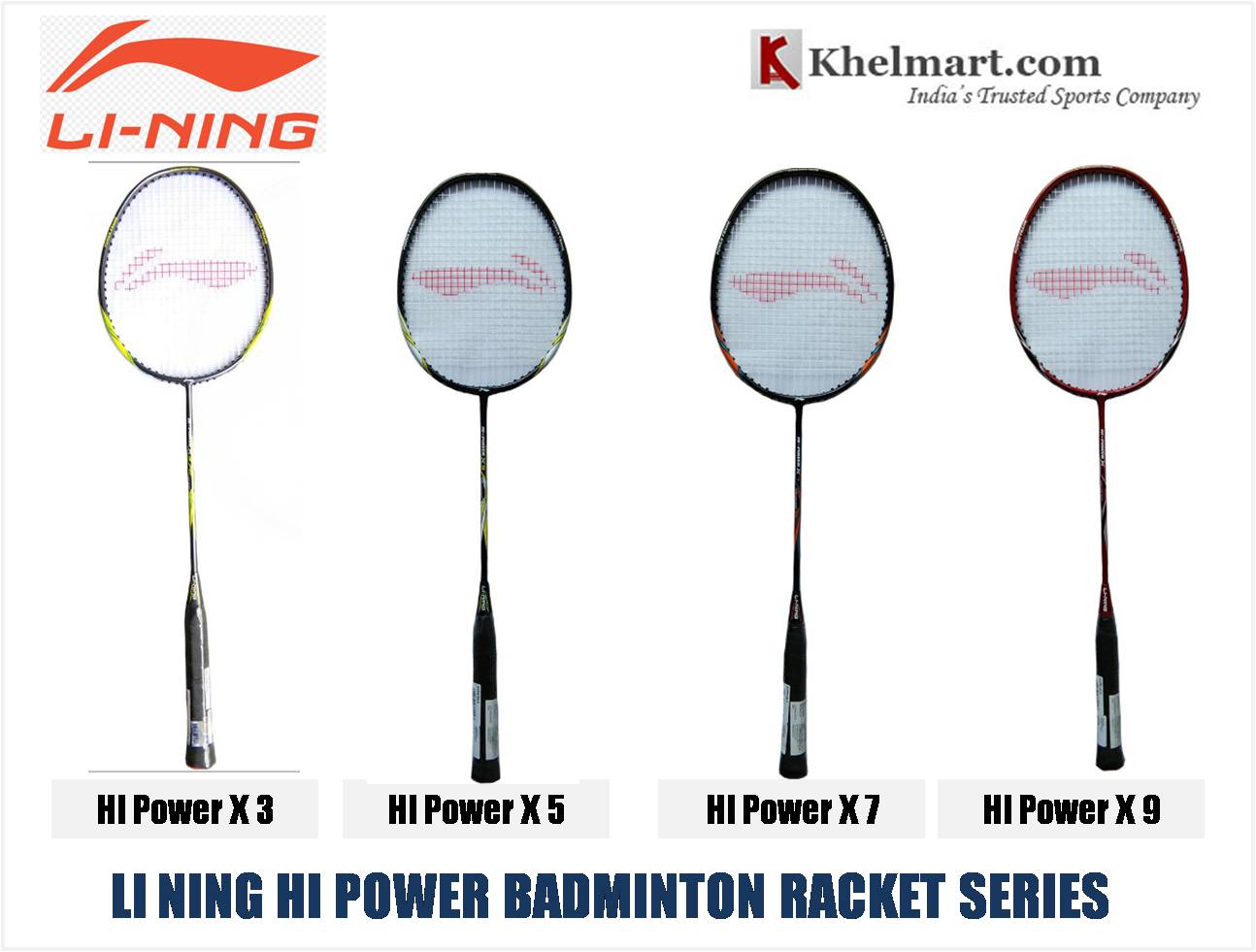 Li Ning Hi Power series is developed for beginner level of players.
It is mid weight racket series with weight of the rackets around 93 gms.
Frame of Hi power series is made of Aluminum while its shaft is made of tempered steel.
With the combination of Graphite and allow aluminum, Hi power series is equipped with all the necessary features and technologies required for beginner level of game play.
Hi Power series will provide better aerodynamics , better swing and since it is mid weight racket so it will offer plenty of power on strokes
Player with all round type of playing skills will defiantly like this racket.
Different Rackets in Li Ning Super Force Series:
LI Ning Super Force 82:
Weight: 82 Gms
Flexibility: Medium
Grip Size: S1
Strung Tension : 28 lbs
Full High Carbon Graphite Lining Badminton Racket
Aerotec Beam System
Dynamic Optimum Frame | Extra Smash Power
LI Ning Super Force 83:
Weight: 83 Gms
Flexibility: Medium
Grip Size: S1
Strung Tension : 28 lbs
Full High Carbon Graphite Lining Badminton Racket
Aerotec Beam System
Dynamic Optimum Frame | Extra Smash Power
LI Ning Super Force 84:
Weight: 84 Gms
Flexibility: Medium
Grip Size: S1
Strung Tension : 28 lbs
Full High Carbon Graphite Lining Badminton Racket
Aerotec Beam System
Dynamic Optimum Frame | Extra Smash Power
LI Ning Super Force 85:
Weight: 85 Gms
Flexibility: Medium
Grip Size: S1
Strung Tension : 28 lbs
Full High Carbon Graphite Lining Badminton Racket
Aerotec Beam System
Dynamic Optimum Frame | Extra Smash Power
Different Rackets in Li Ning HI Power Series:
LI Ning HI Power X3:
Frame Material: Aluminum Allow
Shaft Material: Graphite Shaft
Weight: 93 Gms
Mid Racket suitable for all round type of players
LI Ning HI Power X5:
Frame Material: Aluminum Allow
Shaft Material: Graphite Shaft
Weight: 93 Gms
Mid Racket suitable for all round type of players
LI Ning HI Power X7:
Frame Material: Aluminum Allow
Shaft Material: Graphite Shaft
Weight: 93 Gms
Mid Racket suitable for all round type of players
LI Ning HI Power X9:
Frame Material: Aluminum Allow
Shaft Material: Graphite Shaft
Weight: 93 Gms
Mid Racket suitable for all round type of players
Latest Li Ning Badminton Rackets in Sept 2018 – Super Force and Hi Power Series

,