YONEX Excerol 301 Badminton shoes are latest development by YONEX. Excerol 301 is developed by YONEX and it is equipped by latest technology of YONEX. In the medium price range, Excerol 301 is a perfect choice for intermediate/Advance badminton players.
About Look:
YONEX Excerol 301 comes in 4 color schemes:
1. White and Blue
2. White and Red
3. Blue and Red
4. Red and Green
YONEX Excerol 301 White – Blue and Black
: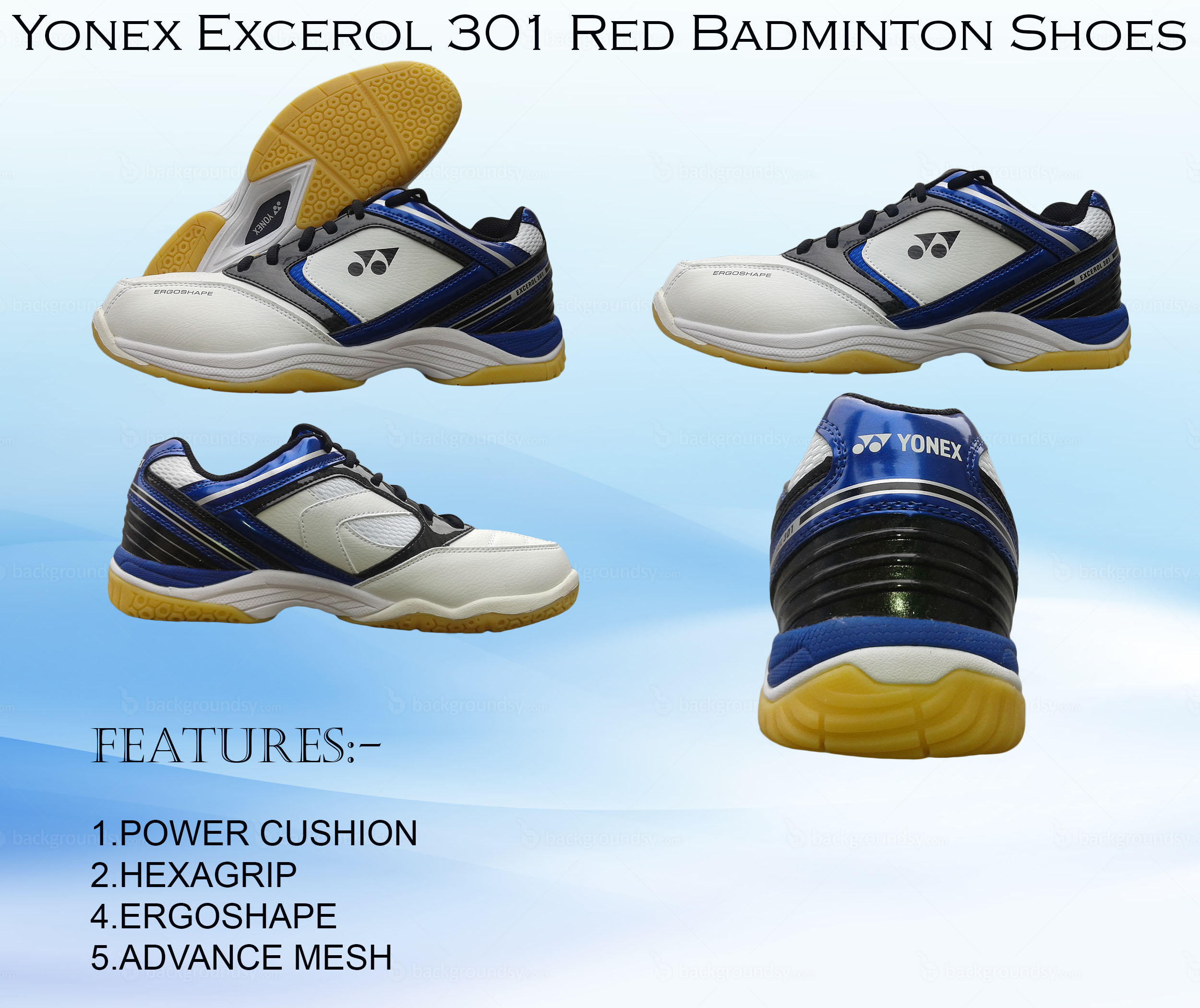 The First color scheme of Excerol 301 is White, Blue and black color. Its base color is white on which dark black color side strap is beautifully place along with blue color. Overall this shoe along with White-Blue and black color scheme look simple but gives different look on badminton court.
YONEX Excerol 301 Red White and Black:
Similar to Excerol White blue, it also comes in white color background. Instead of blue color this shoe comes in red color. All other graphics looks similar to Blue and back color type. This shoe will be suitable for those who need different looks and some attractive graphics color scheme.
YONEX Excerol 301 Red –Green and Black:
It is all together different color scheme as compare to previous two. It is equipped with red color base while green and black color strap graphics. This shoe will be suitable for those who want aggressive badminton playing style.
YONEX Excerol 301 Blue –Green and Red:
Similar to previous one, this shoe is equipped with blue color base. On top of blue color green and Red color based gives classic look to this shoe. Base on design pattern and color combination, this shoe will be suitable for those who want attacking playing style.
About YONEX Excerol 301 Shoe Technology:
All Yonex Badminton shoe is equipped with latest shoe technology. Similarly , Excerol 301 is manufactured with state of Art footwear technology.
Round Sole Technology:
Round sole is the basic feature in YONEX shoes which is designed to give you better feel and Comfort. As its name indicates, Round sole enables optimum shape on sole so that a player foot gets maximum packing from all around. With round sole, player get better shoe grip and translate maximum energy into foot movement. Round sole also ensures the perfect foot movement on court. As a summary Round sole gives better comfort and maximum foot movement
Hexa Grip:
Hexagrip is unique pattern line in form of hexagon shape on non marking shoe surface (cross pattern line inside hexagon). This pattern on shoe sole gives better griping action (3% more) as it's make perfect contact with court surface. Due to enhanced gripping action player gets more stability for better and accurate shot delivery. While it gives 3 % more gripping action its 20% lighter as compare to traditional sole material.
Power Cushion:
Original power cushion technology is based on concept of shock absorbing device which states that if a unit store impact quickly and release it slowly at steady pace then it will results into smooth energy transfer. This contact is applied on varies shock absorbing device such as automobile, railways bogie, aircraft landing gear suspension. Same concept is used is YONEX in badminton shoes. YONEX used innovative power cushion material which absorb the impact energy and released it in control manner which helps in foot movement on court. Power cushion technology givers better feel, perfect energy transfer and helps in smooth footwork on badminton court.
New and Innovative Badminton Shoes – YONEX Excerol 301

,